Upcoming Challenger Tournaments
Play through ESL Play App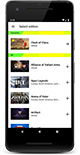 Play on the world's largest competitive gaming platform directly from your mobile device with the
ESL Play App
. Sign up for cups, get information about your matches and report your results! Don't hesitate to share your feedback with us.
Download the ESL Play App
Sponsored by

Riot Games aspires to be the most player-focused video game company in the world. Riot Games was founded in 2006 by a couple of enterprising gamers who believed that player-centric video game development could result in awesome games. In 2009, Riot Games launched its first title, League of Legends, to great acclaim with critics and players. Now more than 67 million play each month.
Now they bet on new franchises, Legends of Runeterra and Teamfight Tactics.