¿Qué es Intel Go4LoL Series?
La serie de copas Intel Go4LoL es un torneo semanal por equipos con una cantidad ilimitada de participantes, donde tu equipo podrá ganar puntos para clasificarse para la final mensual. Cada domingo, los 8 mejores equipos recibirán puntos y el finalista recibirá un premio en metálico de $100 & Riot Points extra.

A final de mes, sólo los 8 mejores equipos de la clasificación mensual serán invitados a un torneo final en el que pueden ganar $500.

También, para todo participante de cualquier Intel Go4 en ESL tendrá la oportunidad de ganar $1000 y otros premios extra en nuestros sorteos de Intel.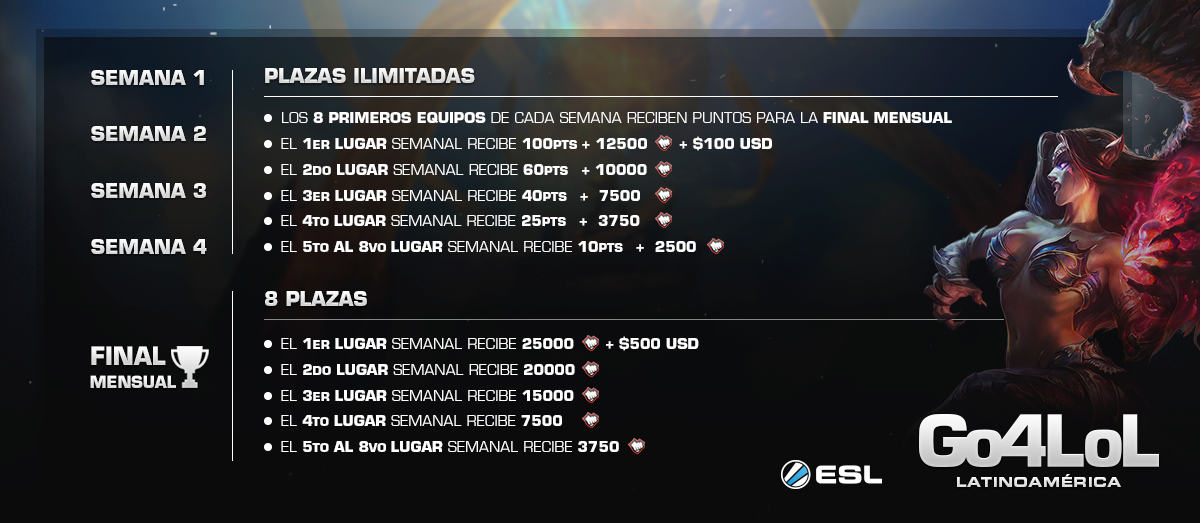 Intel Go4 Challenge & Sorteos
Intel Go4 Challenge
Intel Go4 Challenge fue creado para proporcionar un incentivo extra a los equipos de primer nivel. Los equipos tendrán que ganar 3 finales mensuales hasta final de año para ganar un premio adicional de 1,000 USD.
Sorteo de premios (mensual)
Sorteamos 5 paysafecard al mes, con un valor de 15 EUR cada una, entre todos los participantes de la Go4LoL LatAm Norte.
Sorteo procesadores Intel® Core™ i7
Intel ofrece un procesador Intel® Core™ i7, el cual será sorteado entre todos los jugadores que compitan en las diferentes competencias Intel Go4 de todo ESL Play. Por cada torneo donde compitas consigues una participación al sorteo, así que cuanto más juegues, mayores probabilidades de ganar una CPU.
Sorteo PC Oficial de IEM
Adicionalmente, también sorteamos un
PC Oficial de IEM
entre todos los jugadores que compiten en cualquier
Intel Go4
de ESL Play. Por cada torneo en el que compitas, consigues una participación al sorteo; por tanto, jugando mucho obtienes una posibilidad mayor de ganar este premio.
Put Intel Power Behind Your Gaming
The 9th Gen Intel® Core™ i9 desktop processor is here, and Intel is celebrating the launch with three epic Dreamstakes, each featuring three unique, once in a lifetime, VIP trips for an insider experience at an Intel-powered esports and gaming event. Enter for a chance for you and a guest to win a trip to Intel Extreme Masters Katowice, Intel Extreme Masters Sydney, or ESL One Birmingham. Winners will also get the latest 9th Gen Intel® Core™ i9 processor and walk away with exclusive swag. Visit
corei9.intel.com
to enter now.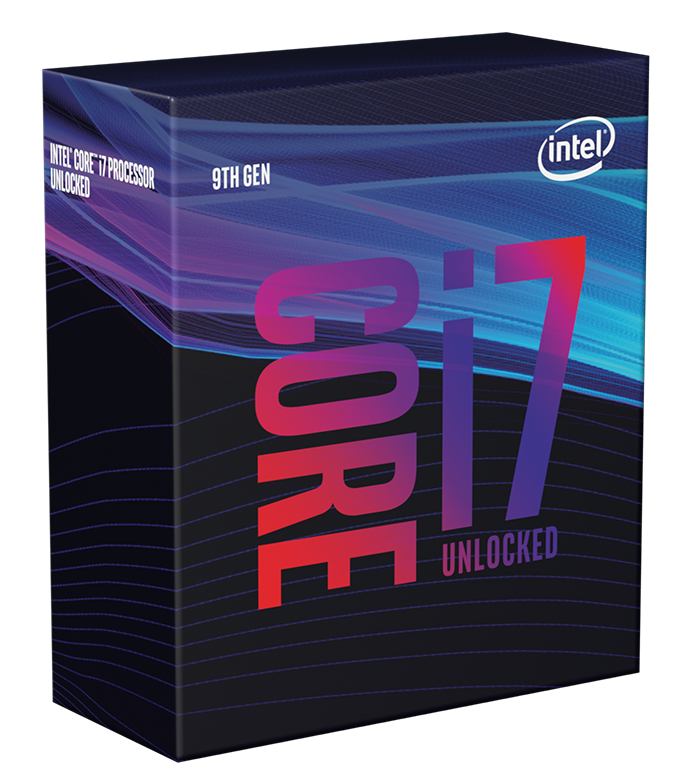 The Best Performance Starts with Intel® Technology
With 4K, VR, and other demanding workloads, performance matters more than ever. Ensure high and consistent framerates for an immersive gaming experience with the latest generation Intel® Core™ i7 processors.
Distribución de Premios
Semanal

| Lugar | Dinero | Riot Points | Puntos |
| --- | --- | --- | --- |
| 1. | $100 | 12500 | 100 |
| 2. | - | 10000 | 60 |
| 3. | - | 7500 | 40 |
| 4. | - | 3750 | 25 |
| 5-8. | - | 2500 | 10 |

Mensual

| Lugar | Dinero | Riot Points |
| --- | --- | --- |
| 1. * | $500 | 25000 |
| 2. | - | 20000 |
| 3. | - | 15000 |
| 4. | - | 7500 |
| 5-8. | - | 3750 |
*
Premio extra del Skin de Ryze Triunfante
Clasificación del Mes
La clasificación de esta competición esta basada en los puntos obtenidos según posición en cada copa semanal. Aquí puedes ver los 16 primeros equipos del último mes:
Historia
La Go4LoL LatinoAmérica Norte inició su andadura en Abril del 2015, con unos 50 equipos participantes en su primera copa. Desde entonces, la cifra ha ido aumentando exponencialmente.
Este es el Ránking General Global de todos los equipos que han puntuado hasta el momento en todas las Go4LoL LAN disputadas.
Después de 157 ediciones, se han repartido 22.150.000 Riot Points & $36,000 USD.
Ránkings Mensuales
Powered by
Intel (NASDAQ: INTC) expands the boundaries of technology to make the most amazing experiences possible. Information about Intel can be found at

newsroom.intel.com

and

intel.com

.