ESL Open League starts on April 1st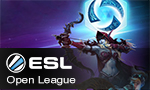 With the ESL Open League we are proud to present to you our new League for beginner and advanced teams who are looking forward to playing in a group within their nationality. The Open League is the new qualifier for the Major League, therefore the best teams from the Open League will advance into the next higher league.
The Idea behind the Open League:

With the Open League we would like to offer everyone a place where they can play and have fun without having to deal with strict schedules or being bound to a roster. Every match can be shifted to a new match date and the roster can be changed as often as you would like to. We want to offer you a place where you can play against teams from your own nation, where you don't have to deal with ping issues, like for example Latin American or Brazilian teams had to when they took part in the Go4Heroes Americas Cup series. With the idea to group nations together we would also like to reduce the language barrier and make it even easier for more teams to participate.
Your group will be supervised by an Admin who speaks your language!
The Structure of the Open League:
We plan to create groups with up to 8 teams and to let them play against each other over a period of 2 months. We would like to create separate groups for North America, Latin America, Brazil, Germany, Spain, Poland, Russia and of course all other countries who will sign up. We would also like to give the Oceanic region a chance to take part in this, so if you know teams from the AUS/NZ region let them know!
There will be two Open Leagues. One for Americas one for Europe.
After the Groupstage the Playoffs will follow, into which the Top 2 teams of each group will advance. The Playoffs will take place after the 7 weeks of Groupstage and will finish the season. This stage will be played as Best of Three Single Elimination and will decide which teams can advance into the Major League and which can't.
The Open League as new qualifier for the Major League:
For season 3 of the Major League we will be expanding the number of teams playing in the League from 8 teams to 12 teams. These 12 teams will consist of 2 groups with 6 teams each. Because we will have to fill the Major League with new teams, the first season of the Open League will give a lot of teams the chance to qualify. In total up to 8 teams will have the chance. The Top 4 of the Open League will get a spot in the Major League Season 3, while the 5th to 8th place of the Open League will play relegation matches against the 5th to 8th placed of the Major League Season 2.
Schedule:
| | |
| --- | --- |
| The default playday will be on Saturday since it may be difficult for most teams to play a full Best of Three during the week. Since we don't want to destroy your schedule for other events you may be participating in we've decided not to have matches bound to one day. Therefore you can now reschedule all of your matches to the day and time which best fits you and your opponent (check image on the right). You just have to contact your opponent and find a new match day. You will be able to change the date in your match sheet on your own. In case you need any help contact the Adminteam. | |
Improving Go4Heroes:
Until now the Go4Heroes Cup series was used as qualifier for the Major League. This caused a lot of trouble, we were supposed to ban Major League teams from the Monthly Finals, so they could not qualify twice for the Major League. We don't want to run Go4Heroes this way, we want to make this Cup series available for everyone. Therefore to improve the quality of this product we will no longer use it as qualifier for the Major League, but as an individual product.
Each Sunday Go4Heroes Europe is your chance to find some nice competition, have matches with teams from all over Europe and also the chance to advance to the next level. Go4Heroes always starts at 17:00 CET with up to 128 slots and a prize pot of $100 every week. On top of that there is $250 up for grabs for the winner of the Monthly Finals. Further details can be found on the
Go4Heroes Europe page
.
Sign up now and prove your strength:
The sign up phase for the League is already open so what are you waiting for? Grab 4 friends start a team and sign up, maybe you will be one of the lucky teams to face some of the best Heroes of the Storm players in the Major League for a decent amount of prize money. You are not playing on the Europe server? No problem there is also an Open League for the European server, including groups for Germany, Spain, Poland and Russia. Check out the
Global News
and click on the news for your region!
Free to cast for all:
In the past we were asked by a lot of streamers if they could get permission to stream the Go4Heroes Cup series. Sadly in the past we had to decline their offers over and over again due to slot limits, but with the Open League we would like to give everyone the chance to cast some competitive Heroes. Of course we will give priority to our ESL Network Channels, but because we expect a lot of matches to happen in the League, we dare to say that everyone will be able to cast something. If you are interested in casting a group, please let us know via support ticket so we can note it down.
We wish all players the best of luck and have fun competing in our section!

No comments yet.

Information:
info write comment not allowed