Quick Rules
National teams
Only national teams are allowed to take a part in Country Championship. Please, make sure to have an agreement within your national community that your team is allowed to represent the nation before signing up!
Match days
One match day per week is planned. Default match day and time will be
Sunday 19:00 CET
. Feel free to agree with your opponent on any suitable match date and time. But if you can not find a solution with your opponent for different match date, the match shall be played on default match date and time.
Roster lock
As long as your national team joined the Country Championship -
you can no longer change your roster
! Make sure you have no players in your team, which will not play the tournament. It will be allowed to change up to two players before playoffs start.
Match settings
Mode: Best-of-Two (overall scores after two rounds)
Time limit:

10 Minutes - Big Easy
No overtime, goals scored at the end of time limit are valid only if it's possible to kick off

Score limit: 0
Stadium: Big Easy
Chat
Looking for your opponents or need help?
During the cup join
ESL Fun Games
on Discord, use the
ESL Play App
to chat with your opponent or open a
support ticket
.
Match related issues must be handled via
match protest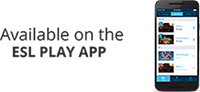 Help
Is this your first time? Here are the important steps:
Follow the instructions on the right to sign up and check in
If check in is enabled, make sure to check in on time
Wait for your first match to show up on the right
Get in contact with your opponent and play the match
Enter the result and ask your opponent to confirm
Wait for your next match
Still need help? During the cup, use chat if it is available, otherwise please contact support or for match related issues, please open a protest.