Global
Grab your Black Squad Closed Beta Key now!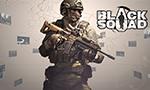 Today we are happy to announce that all our ESL Premium members will be able to join the Closed Beta Test on Steam for Black Squad. Just read through the announcement and claim your own key and if you do not have the ESL Premium membership you can just purchase it from €3,00 per month.
What is Black Squad?
Black Squad is a military first-person-shooter game using the Unreal Engine 3 to show realistic graphics and dynamic visuals. You can experience 10 different modes from classic to massive multi-play modes.
Grab your Black Squad Closed Beta Key now
Every
Premium
member is now able to get a
Black Squad
Closed Beta Key and participate in the upcoming beta tests.
Black Squad Closed Beta Key
Not an ESL Premium member?
It only takes a few minutes until you are a Premium member. Choose the offer, that fits you best.
Purchase ESL Premium


Information:
info write comment not allowed