Classic Games PC
End of Classic Games *Update*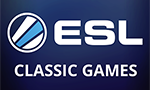 For some time we've had a great ride with amazing Classic games, but all great things come to an end. ESL has decided to close the Classic Games section, and created dedicated game sections.
Information
War Rock, Warcraft and Combat Arms are moving and getting it's own section! This means that everything will be only related to these games and will no longer be located inside Classic Games. Make sure to check out your game.
All tournaments and ladders will be transfered to the new section, so if you are already signed up, you do not need to do anything! Everything else will continue as usual.
Should you encounter any issues or have any questions, please contact Support and a member of staff will be happy to help!
Visit the new Warcraft section!
Visit the new Combat Arms section!
Visit the new War Rock section!
Visit the new JK:JA section!