Fun Games PC Blub Game
Blub Game: 1on1 Nightcup #1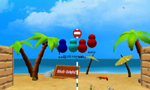 Time for some more Blub Game action in this 1on1 nightcup! After some inactivity following the finishing of the Autumn Cup, we find it's time to see how active this game still is on the ESL. We hope to get a lot of players, in order to keep this alive!
Blub Game 1on1 Nightcup #1!
Settings
The player on the left side of the ESL page can choose the settings in the first game. The other player can decide the settings for the second game. In case a third game has to be played, you have to use the standard ruleset which is a 4on4 field with speed 1,5x.
Check-In System
This cup uses the ESL Check-In system, below is a brief introduction of how this works.
Step 1 - Registration (Green)
Here you can sign-up for the cup, but you will have to confirm your spot later.


Step 2 - Confirmation (Yellow)
30 minutes before the cup starts you will have to confirm your spot. After doing so you are secured a spot in the tournament.
Step 3 - Entering (Red)
Still free spots left? 20 minutes before the cup starts sign up's open again and you can join the cup even if you didn't sign up for it on beforehand.
Support & Help
Should you have any questions or problems with the cup or any other kind of difficulty, you can contact us with a Support Ticket! For any problems regarding a specific match, please create a protest.
We are looking for admins!
Would you like to help to run the cups and ladders in the Fun Games section on ESL? You know exactly what the community needs and you would love to be a dedicated admin? Then apply now!
Your

Memory of Fun Games
staff
TheM
, Thursday, 12/03/15 12:04

No comments yet.

Information:
info write comment not allowed