ForzaRC Season 2 - How to: Tournaments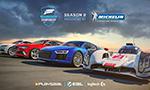 Every week we have tournaments on Saturday and Sunday, however there are differences between the competitions. Today we want to explain how the tournaments on Saturday work and how the Elite Showdown on Sunday works from a user point of view as well as an administration point of view.
Elite & Consolation Cup on Saturday
We will seed the Top 32 of the Rival's mode into the Elite Cup and the next 128 players into the Consolation Cup. Only players who have a replay shown in the leader board are allowed to participate in the tournaments.
The tournaments are starting at 18:00 CET and every 40 minutes a new round starts, which means you have up to 40 minutes to play your Best of 3 match against your opponent. You cannot reschedule matches as the tournament needs to be play at this time. Our staff is not in your lobbies and is not checking all matches, so all players have to open protest tickets, if there is a violation of the rules.
Here are 3 possible scenarios which can happen during a tournament:
1) You play your match without any issues and afterwards you and your opponent enter the result on the website and continue playing (if it is your first loss).
2) Your opponent does not show up within 15 minutes. If this happens, please open a protest ticket and provide proof, so our staff can check the case and add a default win if needed.
3) You play your match, but your opponent breaks the rules (e.g. corner cutting, ramming, etc.). Then it is up to you to open a protest in time (10 minutes after the race) to make the staff aware of the issue. It is also up to you to provide proof, so make sure to upload the videos that show the violations and share them in the protest. The 10 minute deadline is needed to keep the delay in the tournament as little as possible.
It is very important to understand that you have to tell the staff about issues and that you have to provide the proof, because our staff team can only decide based on the facts given in the protest. And only players, who participated in the match, can open tickets regarding the match. Tickets from third parties will be ignored.
Elite Showdown on Sunday
On Sunday the Top 16 players from the Elite Cup are racing and our marshal is also in the lobby to observe the whole race. You can of course protest after the races are over and contact our marshal with issues, but we will also check all replays and videos of the three races and punish all violations against the rule book. However this can only be provided on Sunday.
If you have any further questions, please let us know, so we can answer them.

No comments yet.

Information:
info write comment not allowed