It is quite simple! Just link your Discord account with your ESL account once and then you can show everyone when you are competing in one of our tournaments.
Link your account now!
Quick Rules
Zapisy do turnieju: Tutorial
Struktura turnieju: BO1
Dogrywka i rzuty karne: Tak

Ważne zasady:

Składy: FIFA Ultimate Team
Zmiany możliwe tylko w 2 połowie
Zabrania się używania zawodników wypożyczonych
Zabrania się używania kart treningów
Prize
| | | |
| --- | --- | --- |
| Miejsce | Slot | Nagrody |
| 1. | ✅ | Zwycięzca otrzymuje slot do reprezentowania klubu w sezonie wiosennym. |
Chat
Potrzebujesz pomocy? Podczas turnieju dołącz do nas na serwerze Discord Ekstraklasy lub otwórz etykietę wsparcia. Jeśli chcesz otworzyć protest dla swojego meczu, kliknij tutaj.
Skontaktuj się ze swoim rywalem!
Skorzystaj z bezpłatnej aplikacji
ESL Play
dostępnej na telefon, aby szybciej skontaktować się z przeciwnikiem.
Ponadto, możesz bezpośrednio obserwować przebieg turnieju, nie martwiąc się o nic. Łatwo, prosto i wygodnie!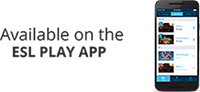 Help
Czy to Twoja pierwsza wizyta na ESL play? Najważniejsze pierwsze kroki to:
Podążaj za instrukcjami po prawej stronie aby się zapisać oraz potwierdzić uczestnictwo
Jeśli check in jest włączony, upewnij się żeby potwierdzić uczestnictwo o właściwej porze
Czekaj na swój pierwszy mecz aż pokaże się po prawej stronie
Skontaktuj się ze swoim przeciwnikiem i grajcie mecz
Wpisz wynik meczu, jeśli nie ma użytego Tournament Code
Czekaj na kolejny mecz
Jeśli ciągle potrzebujesz pomocy podczas trwania turnieju, użyj czatu bądź skontaktuj się z supportem.