Awards for playing!
Playing in our Ladders is rewarding. You cannot only earn XP for each match, but you can also win some
awards
. Here is small overview of what you can achieve:

Reaching Overall Level 750

For being ranked #1 in a ladder
for 120 days in a row

For 2500 won matches on ESL

For 30 victories in a row
in a league
Awards are only visible on
Premium
player & team profiles.
Open Ladder
Play at any time
Free and open to everyone
No sign up limits
Earn awards for playing
Ladder Finals with special rewards
Three different challenge options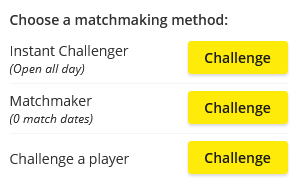 You can use the Matchmaker, Instant Challenge or free challenges to find opponents and compete in a match. The different options are explained in more details on our
Ladder FAQ
.
If you have any further questions regarding Ladders, make sure to check out our
Ladder FAQ
, where we also explain when penalty points are given in the Ladder or contact
our support
.