Quick Rules
How to play?
1. Add your rivals to friends on PSN
2. Start FIFA 19
3. From the tab "Online", select "Online Friendlies™"
4. Select settings described below in "Game Details"
5. Invite your rival
6. Play the match
7. Provde a screenshot confirming the result in the match page and confirm the result
Tournament Details:
Game mode: Head to Head 1on1 (not FUT)
Format: Best of Three (BO3)
Structure: Double Elimination bracket
Game Details:
Match duration: 12 minutes (6 minutes per half)
Controls: Any
Game Speed: Normal
Squad Type: Online
In case of draw: Golden goal match 
Prize
| | |
| --- | --- |
| Place | Prize |
| 1st | Direct spot at Gamescom finals |
| 2nd | Direct spot at Gamescom finals |
| 3rd | Direct spot at Gamescom finals |
| 4th | Direct spot at Gamescom finals |
Qualified players will receive transport and accomodation for the finals at Gamescom
Chat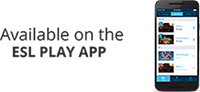 Get in touch with your rival!
Use our free application
ESL Play
on your mobile device in order to quickly contact your rival.
In addition, you can have a direct follow-up of the tournament without having to worry about anything.
Easy, comfortable and simple!

Are you looking for your rival or need help? Join ESL FIFA on discord.
Help
Questions or doubts
regarding this tournament? Please do not hesitate to contact our admin squad via
Support Ticket
. If you have any questions regarding creating an ESL account, joining the tournament, rules or contacting the rival, you can
open a Support Ticket
and we will reply as soon as possible
Problems with the match:
If you have problems with contacting your opponent, something happened during the match and you want to escalate that, please
open a Protest
and we will try to solve the issue as soon as possible.
Please keep in mind that admins of the tournament are here to help and make sure that you have a great experience during the tournament.