Dota 2 Europe
Congratulations to Team E-Lab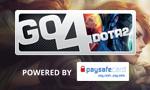 Congratulations to E-Lab for winning their first paysafecard Go4Dota 2 Cup! taking home 250€. For more information on the next cup please check below.
Congratulations to our paysafecard Go4Dota 2 Cup #20

Full bracket
Interview with Fares Moukheiber, team manager for E-Lab
This Week, Franklyn 'Psilybin' Mayott got to sit down with Fares Moukheiber, team manager for E-Lab to answer a few questions about his role and the team sponsor.
Hi Fares, congratulations on winning your first paysafecard Go4Dota 2 cup. Tell me a little about yourself and your role in the team.
I have been with team since 7 years now This team consists of the same 5 friends for years. We moved with the sponsor as a full team 5 players and a manager. My role in the organization is to secure a gaming house (internet, pcs, etc) handle the team schedule. Ensure that the team is disciplined like every professional teams, arrange games and tournament for the team all the time. I handle the communication with all organizers and other local and multinational sponsors.
I took some time to take a look at your sponsor, E-Lab. How long have you been with the organization?
We started with this organization since 6 months. E-Lab really helped us out as a team. First off It's the first organization that sponsored a middle eastern team. They provided us with a gaming house salaries which is every players/ team dream to go big. This is one of the biggest steps someone has ever taken towards esport in the middle east and we are so happy that we are progressing with with sponsor who believed in us. We already showed a high level of gaming, we are winning a lot of tournament.
What other tournaments have you been entering in? give me a break down.
Msi beat it 2014, we used to be playing under wired gaming, same team as now. We won the middle east championship and qualified to the global final in Taiwan where we played vs Navi.Us and Rave. We have also played vs BU, VP, Vega, etc.
Some well known teams, how well did you do against them?
Navi.Us, 60 minute game, Throwed by us. Vp was so close, and we beat Vega.
I am curious do you recall what made you lose against VP?
The game was long time ago we had no experience, but last year we talked to vp god In Taipei.They made an analysis on us and he said we only need experience. Now we are on the way there everyday we learn something new. VP were also standing behind us and cheering us when we were killing Navi.Us heroes.
Nice so would you say you are on good terms with VP? do scrim with them at all?
We are friends with God and Jotm (ex VP player), but we don't scrim with them. We only play magnus techies with god *chuckle. We beat M5 as well. We are going to be starting a game soon, are there any more questions?
No none at this time. Thank you for taking the time to speak with me and good luck with your future matches.
Finals Analysis
E-lab
Radiant
| | | | | |
| --- | --- | --- | --- | --- |
| | | | | |
| Søgaard | Miggi | Five | Lantas | tea&biscuits |
| 2/4/10 | 2/5/9 | 8/4/7 | 5/12/10 | 4/12/14 |
DIRE VICTORY
21
:
37
E-lab
Dire
| | | | | |
| --- | --- | --- | --- | --- |
| | | | | |
| .... | BGDeathLord | __ | Stay a while! | E-LABLABLABLOUBA |
| 10/5/17 | 2/3/14 | 8/2/18 | 6/7/18 | 11/6/15 |
| | | |
| --- | --- | --- |
| First Blood | Shadow Fiend | -00:01 |
| First Roshan | Dire | 26:44 |
| Most Kills | Bloodseeker | 11 |
| Most Assists | Io/Dark Seer | 18 |
| Most GPM | Bloodseeker | 652 |
| Most XPM | Bloodseeker | 686 |
Find out more details at
paysafecard Go4Dota 2 Europe Portal
.
About our Sponsor

paysafecard lets you pay online as quickly, simply and safely as if using cash. Buy paysafecard at over 480.000 sales outlets around the world and pay with it at your favourite games or thousands of other online shops. You don't have to enter any personal information or bank account or credit card details. Your privacy remains completely protected at all times with paysafecard!
Social Media - Follow and like us
inbou
, Monday, 17/08/15 19:50

No comments yet.

Information:
info write comment not allowed