Dawn of War Global
Dawn of War 3 Arrives at ESL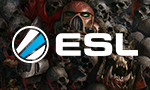 In the grim dark of the far future there is only war. While the Blood Ravens once again clash against the fierce Eldar and da Orks mighty WAAAGH!, ESL brings another, more thrilling battle, the one that will decide who will be leading the victorious force in its first Dawn of War 3 tournament.
What is Dawn of War 3
The Dawn of War series reaches its third game, approaching the consolidated Warhammer 40k RTS in a whole new way. With non-stop action scatered across the battlefield since the very first moments of the games it completes changes the way in which players have to fight in order to win every single battle.
The game brings not only iconic characters such as the Blood Raven's Chapter Master, Gabriel Angelos, the Eldar Farseer, Macha, and da Orks Warlord Gorgutz, tied in an intricate plot against a yet unknown threat, but also gigantic combat machines such as Imperial Knights, Wraithknights and Morkanauts, into the battlefield.
And now it is up to you, pledge your allegiance, call in your best troops and wage war to conquer the ESL tournaments.
Opening Cup
Our first Cup will be held during the Open Beta that happens in this upcoming weekend. If you are a new player in the ESL platform, we have an
extensive guide
with detailed instructions on how to create your account, configure it for the tournament and play.
Sign up now!
Until April 23rd, 19:00 CEST

Date: Sunday, 23rd of April
Bracket Size: unlimited
Structure: Single elimination
Coverage: Bracket & Contestants
Information and Support
If further assistance is needed, it is possible to reach us in the official
ESL Dawn of War discord server
or by creating a ticket in our
support system
.
Stay up to date, follow us!


Information:
info write comment not allowed