Czech Republic & Slovakia World of Tanks
Anketa: Zmena času WoT turnajov.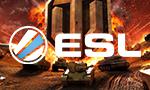 Vďaka feedbacku sme sa rozhodli usporiadať menšiu anketu ohľadom časov našich World of Tanks turnajov. V tejto ankete máte šancu vyjadriť svoj názor, kedy by mali začínať piatkové a sobotné turnaje. Samozrejme nám ide aj o celkový feedback, preto uvítame aj iné ako časové návrhy na zlepšenie.
Feedback
Spätná väzba medzi nami a hráčmi je dôležitá a preto vlastne vznikla táto anketa. Samozrejme ak máte akékoľvek ďaľšie návrhy, nápady, pripomienky a podobne, neváhajte nás kontaktovať v komentároch, na facebooku alebo priamo napísať niektorému z adminov a vyjadriť svoj názor.
Anketa
V tejto ankete sa teda pýtame, v aké časy by vám vyhovovali piatkové a sobotné turnaje. Aby ste mohli hlasovať, musíte sa prihlásiť. Login a heslo je rovnaké ako na ESL, stačí použiť tlačítko Sign in with ESL.
Tweety od @ESLCZSK
Váš
Admin tím​
ABzV
, Wednesday, 16/09/15 13:15

No comments yet.

Information:
info write comment not allowed