Quick Rules
Sign up to the qualifiers for ESL Masters Counter Strike Spain! Pay attention at the following steps:
1. You must to be registered with an ESL Account
2. Create a team if you need it here to participate
3. You must meet the requirements of the competition to participate:


                        (All players must have theirs Steam Accounts correctly linked. If not, the team could be disqualified)



Team: You must be part from a team with minimum 5 players and maximum 7 players



Logo: The team must have a correctly logo that comply with the competition guidelines


Nationality: The team must have nationality in one of the following countries: at, be, bg, cy, cz, de, dk, ee, es, fi, fr, gr, hr, hu, it, lt, lu, lv, mt, nl, pl, pt, ro, se, si, sk, uk


Residence: The main roster must be made up for three players with residence in the following countries: es, pt




4. Sign Up
5. Wait until the check-in to be open
---
Schedule
| | |
| --- | --- |
| First day | Second day |
| From first round until quarters finals | From quarters finals until grand final |
(The competition will be played in two continuous days and the schedule could be changed)
How to play the competition
1. Go to your match page and start to ban map
2. Go to to the CSGO Server through the ESL Wire
3. Choose the correct side and play the game
4. The time to starts the round is 15 minutes
                                                            (If your opponent doesn't show up you must open a protest in your match page)
Tournament settings
Seeding: The seeding may be slightly modified by the organization before the start of the tournament
Server: 128 tick rate of high quality with CS Game Integration
Slot for a coach: Not available
Structure: Simple elimination
Format: Bo1



The semifinals will be play Best of three



Ping: Players must play with a stable connection without exceeding the average of 90 ping
If you see something wrong for this reason, a protest must be open with all the correct proofs to reclaim the default victory.
Match configuration
Rounds: 30
Maps: Mapvote system
Map Pool of ESL
de_dust2
de_mirage
de_inferno
de_nuke
de_train
de_overpass
de_vertigo
Prize
| | |
| --- | --- |
| Place | Prize |
| 1º | A slot to ESL Masters CS:GO |
| 2º | A slot to ESL Masters CS:GO |
Qualifying teams commit themselves to having defined the final roster and a registered trademark (team name or a club, clothing according to the brand for media day, and a png and vector logo) Deadline: on August 18 at 23:59h CEST. Otherwise, ESL reserves the right to make changes to the participating teams.
Chat
Estamos encantados de ayudaros en todo lo posible, si tenéis algún problema, alguna duda o sugerencia podéis contactar con nosotros mediante el sistema de tickets de Ayuda y Soporte.
¡Ponte en contacto con tu rival!
Utiliza la aplicación gratuita
ESL Play
desde tu móvil para contactar más rápidamente con tu adversario.
Además, podrás tener un seguimiento directo del torneo sin necesidad de preocuparte de nada. ¡Fácil, cómodo y sencillo!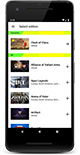 Help
Do you have any questions about the competition?
Here you will find some tools to contact with the administration:
Customer Support: If you have any question to create an account in ESL, sign up or how you can contact with your rivals, you can open a support ticket and we will help you as soon as possible.


Problems in your match? If you have any problems or you've seen any error in the competition, you can open a protest and we will help you as soon as possible.
Keep in mind that the administration will be always available for any question. Please, feel free to contact them
Powered by