Clash Royale Challenger Series Cup offers the fairest game competition for mobile devices. Starting 10th of January a cup will be held every Sunday throughout each month.
Unlimited participants can join our cups, which are open to the entire European community. Registered players can test their ability with their incredible troops and spells to rise to the top of the bracket and get the weekly prize of €25 euros for players without Premium Account and 100 Euros for players with Premium Account.
Climb ranks, open chests, create your ideal deck and knock down the enemy towers!
Prize distribution
The winning player of each weekly cup will obtain the following prize:
Weekly Champion

25€
Play through ESL Play App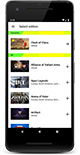 Play on the world's largest competitive gaming platform directly from your mobile device with the
ESL Play App
. Sign up for cups, get information about your matches and report your results! Don't hesitate to share your feedback with us.
Download the ESL Play App
Social Media
How to Play
Open Clash Royale on your device.
Accept the match challenge and play the match.
Wait a moment until the match is closed.
If you have more matches to play, take on the challenges ahead as well.