Challenger Series Clash Royale es la competencia de batallas de justas más popular de dispositivos móviles. Se llevará a cabo una copa cada sábado a lo largo de cada mes.
En cada copa, de participación ilimitada y abierta a toda la comunidad de América, los jugadores inscritos probarán su habilidad con sus increíbles tropas y hechizos para alzarse a lo más alto del bracket y conseguir así el premio semanal.
¡Escale rangos, abra cofres, cree su mazo ideal y derribe las torres enemigas!
Section closed!
The game is no longer available on ESL Play. If you want to play the game on ESL Play, please create a topic in the
General forum
.
Play through ESL Play App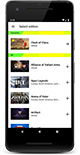 Play on the world's largest competitive gaming platform directly from your mobile device with the
ESL Play App
. Sign up for cups, get information about your matches and report your results! Don't hesitate to share your feedback with us.
Download the ESL Play App
Premios
El jugador ganador, sin status Premium en ESL, de cada copa semanal obtendrá el siguiente premio:
Campeón Semanal

$50