Quick Rules
The tournament is limited to 256 players upon check in.
How to play:
Add opponent to friends list
Start BLAZBLUE: CF
Open a custom match
Invite your opponent
Start the match
Game settings:
Character swap: Only the loser of the previous round is allowed to swap characters. The winner will have to continue to use the same character.
Connectivity: If the match becomes unplayable due to connectivity issues it will have to be reported to the tournament administration as soon as possible. If multiple reports arise that a player has a poor connection the ESL administration reserves the right to remove that player from the tournament.
Replays: Storing replays or screenshots of your victory is mandatory and will have to uploaded to your match. These will be used in case of any disputes.
Stage: The loser of the previous game may choose the stage. The first stage is random.
BGM: The winner of the previous game may select the BGM.
Chat
Looking for your opponents or need help?
During the cup join
ESL BLAZBLUE
on Discord, use the
ESL Play App
to chat with your opponent or open a
support ticket
.
Match related issues must be handled via
match protest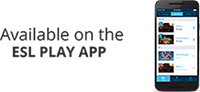 Help
Is this your first time? Here are the important steps:
Follow the instructions on the right to sign up
If check in is enabled, make sure to check in on time
Wait for your first match to show up on the right
Get in contact with your opponent and play the match
Enter the result and ask your opponent to confirm
Wait for your next match
Still need help? During the cup, use Discord chat if it is available, otherwise please contact support.
Match related issues must be handled via
match protest
.