Game rules
Auto Chess Rules
This is a living document and is subject to change at the discretion of ESL Administration.
General Understanding of the Rulebook
The following rulebook is a guide document that is valid for all stages of the tournament. Admins reserve the right to make amendments to the rulebook with or without prior notice to the players. Admins are the decision-makers for all cases and disputes which may occur and are not written in this rulebook.
This rulebook is applicable to SEA Auto Chess Regional Tournament operated by ESL 
1. General Rules
1.1 Agreements
Certain agreements between participants are allowed to slightly differ from the ESL rules. Agreements that differ greatly from ESL rules are however not allowed. Please note that the ESL rules were made to ensure a fair match for all participants. You are not allowed to file a protest after the match if you think that the agreements made before the match, in the end, resulted in a disadvantage for you. Rules that can be changed with agreements are explicitly stated. Rules that do not explicitly state they can be changed by agreement, cannot have agreements made. All arrangements between participants made in addition to the ESL rules have to be written down in the match comments. The other participant has to confirm the arrangements also in the comments. To avoid abuse of the edit function, a third comment must be written. Please also keep screenshots and/or log files of your arrangements. If you do not fulfill these requirements, any protests or supports concerning arrangements will be rejected.
By participating in any series in the tournaments hosted by ESL, you agree to participate in the Finals if you qualify.
Players are required to begin any preparations needed to reach the finals. This means, having identification that allows you to travel available to verify all participants in the live Finals. This includes but is not limited to, photo ID, state-issued ID, Passport, and Visa. More information in section 1.7.
1.2 Prize Money
The prize payment process will begin after the league finals have concluded. All players will be contacted by ESL to fill out all necessary legal documents for prize payment within 14 business days of finals. Once a player has successfully filled out and returned those forms, prize payments will be rendered within 90 business days.
1.3 Game Version
All players must install the newest version of the game in order to participate in tournaments hosted by ESL. Updates must be installed before the tournament starts.
1.3.1 Patch
All matches will be played on the patch available on the live servers at the time of a match.
1.4 Rule Changes
The League administration reserves the right to amend, remove, or otherwise change the rules outlined in this Rulebook, without further notice. The League administration also reserves the right to make a judgment on cases that are not explicitly supported, or detailed in this Rulebook, or to make judgments that even go against this Rulebook in extreme cases, to preserve fair play and sportsmanship.
1.5 Confidentiality
The content of protests, support tickets, discussions or any other correspondence with league officials and administrators are deemed strictly confidential. The publication of such material is prohibited without prior written consent from the League administration.
1.6 Alcohol or Other Psychoactive Drugs
To play a match, be it online or offline, under the influence of alcohol or other psychoactive drugs, even if not among the punishable substances, is strictly prohibited, and may lead to severe punishment.
1.7 Names, Symbols, and Sponsors
The ESL reserves the right to forbid the use of unwanted names and/or symbols in their competitions. It includes but not limited to:
Any legally protected words or symbols are generally forbidden unless the owner gives permission. 

Advertisement or promotion of sponsors that are solely or widely known for pornographic, drug use or other adult/mature themes and products.

Any name/symbol regarding origin, religion, politics, race, gender, sexual orientation
 is not allowed at all
User-generated content will be governed by the terms and conditions of Auto Chess.
1.8 Impersonation
All players must use their own accounts. Players are not allowed to participate with foreign accounts, nor to encourage other players to do so. Any player that is found to have a player using another player or account will be considered an impersonation case. The player will be disqualified from the season and the players involved will be given between 2 and 6 penalty points depending on the situation as well as being barred from participating for the rest of the season in any capacity.
1.9 Deny of Participation
ESL, VNG, Drodo Studio and Dragonest reserve the right to deny the participation of any team or player for any reason and precaution.
2. Schedule
SEA (South East Asia Region)
SEA Open Qualifiers (June 11th - June 18th)
Thursday 11th June 2020 19:00 PM SGT (Indonesia Qualifier) 
Friday 12th June 2020 19:00 PM SGT (Indonesia Qualifier) 
Monday 15th June 2020 19:00 PM SGT (Vietnam Qualifier) 
Tuesday 16th June 2020 19:00 PM SGT (Vietnam Qualifier) 
Wednesday 17th June 2020 19:00 PM SGT (Thailand Qualifier) 
Thursday 18th June 2020 18:00 PM SGT (Rest of SEA)
The time mentioned above is specified for GMT+8 timezone
Rest of SEA (June 26th - June 28th)
Friday 26th June 2020
Saturday 27th June 2020
Sunday 28th June 2020
National Finals Indonesia & Thailand (July 3rd - July 5th)
Friday 3rd July 2020 
Saturday 4th July 2020  
Sunday 5th July 2020
National Finals Vietnam (July 10th - July 12th)
Friday 10th July 2020
Saturday 11th July 2020
Sunday 12th July 2020
SEA Regional Finals (July 17th - July 19th)
Friday July 17th 2020
Saturday July 18th 2020
Sunday July 19th 2020
3. Registration & Eligibility
In order to participate in tournaments hosted by ESL, you must meet the following requirements below. If you do not meet these requirements you will be deemed ineligible. In case a player that does not fulfill the requirements qualifies through this tournament, the player will lose the right to the qualifier and the next top qualified player will take their place.
3.1 Age Restrictions
All players must be at least 16 years of age or older.
If a player is found to currently be participating or previously participated in any matches while under the age of 16 they will be disqualified from the tournament and will forfeit any money that was, or would have been made during that tournament.

If a player is under the age of 18, a parent or legal guardian must be able to accompany the minor to a live competition. 

If a parent or legal guardian is unable to travel a temporary guardian who can travel will need to be appointed and proper documentation will need to be provided to ESL.

ESL will not be responsible for providing the documentation necessary for appointing a temporary guardian.
3.2 Residency Restrictions
SEA - All players must be residents and participating from Vietnam, Malaysia, Indonesia, Thailand, Philippines, Brunei, Singapore, Laos, Cambodia, Myanmar, Timor-Leste.
In order to be considered as a resident, a player must be from the following countries that are listed above. Foreigners living in that country need to have a valid visa/any document that proves residency in eligible countries which is longer than 90 days in order to be counted as a resident. A player's residency's status and country he/she chose to participate in must be unchanged for the whole duration of the tournament including the National Final and Regional Final. Failure to maintain residency status within the duration of the tournament will result in their participation in the tournament voided.
3.3 ESL Play Registration
All players must be registered on the ESL Play platform in order to participate in any ESL sanctioned event.
3.4 Devices
Players must play using their phone or tablet, emulators are not permitted.
4.Tournament
4.1 Stage
4.1.1 Open Qualifier
Country specific qualifiers for each country, Vietnam, Indonesia, Thailand, Rest of SEA, 32 players from each qualifier will proceed to the next stage of the tournament.
4.1.2 National Finals
A national grand final tournament for each country that consists of 32 players for each national, total number of players qualified for the next stage is explained as per below:
Vietnam National Finals - 9 Players
Rest of SEA - 6 players
Indonesia National Finals - 9 players
Thailand National Finals - 8 players
The number of players mentioned above would be considered as N* for 4.2 Format.
4.1.3 SEA Regional Finals
A total number of 32 players combined from the 5 National Finals and Rest of Southeast Asia Qualifier, will compete to determine the champion of the SEA region.
4.2 Format
4.2.1 Competition Format For Country Specified Open Qualifier Format (Vietnam, Rest of SEA, Indonesia, Thailand)
Single Elimination

Maximum eight players per group

Games per match:

64 players or above - 2 games

The top N* players will advance to National Finals

Each Qualifier will last one or two days depending on number of sign-ups/check-in
4.2.2 National Finals Format
Double Elimination

Upper Bracket RO1 (32 players, 4 groups) - Best of 3

Lower Bracket RO1 (16  players, 2 groups) - Best of 3

Upper Bracket RO2 (16  players, 2 groups) - Best of 3

Lower Bracket RO2 (16  players, 2 groups) - Best of 3

Upper Bracket RO3 (8  players, 1 group) - Best of 4

Lower Bracket RO3 (8  players, 1 group) - Best of 4

Grand Finals (8 players, 1 group) - Best of 5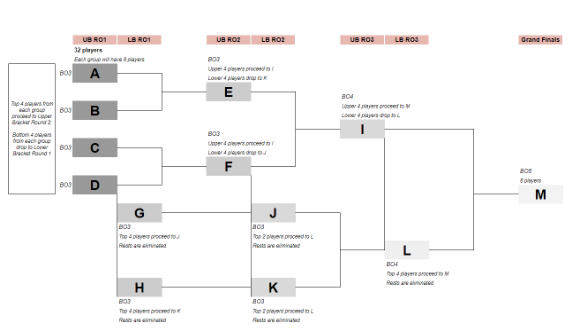 4.2.3 Regional Finals Format
Double Elimination

Upper Bracket RO1 (32  players, 4 groups) - Best of 3

Lower Bracket RO1 (16  players, 2 groups) - Best of 3

Upper Bracket RO2 (16  players, 2 groups) - Best of 3

Lower Bracket RO2 (16  players, 2 groups) - Best of 3

Upper Bracket RO3 (8  players, 1 group) - Best of 4

Lower Bracket RO3 (8  players, 1 group) - Best of 4

Grand Finals (8 players, 1 group) - Best of 5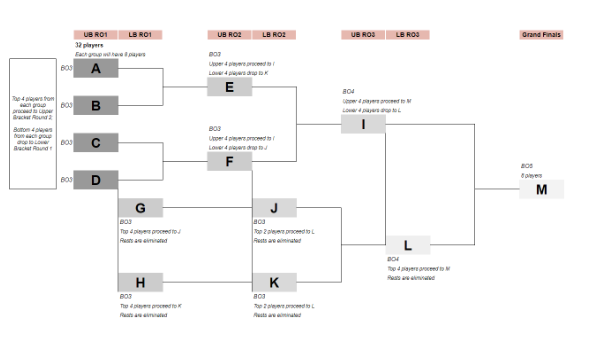 4.3 Match Scoring
Each game will contribute a specific amount of points to the team based on their ranking in the game. And the points collected throughout the games will determine their final placing in the match.
Point Distribution Per Game

Rankings

Points

1st

9

2nd

7

3rd

6

4th

5

5th

3

6th

2

7th

1

8th

0
4.4 Tiebreakers
In case of a tie of the score at the end of the match, the following guidelines will be followed in order between the tied players:
Game wins in a match

Higher placement in a match

Higher Win Rounds/Lost Rounds difference of all games played

Higher Win Rounds of all games played
4.5 Restart
A match can only be restarted with prior admin approval.
4.6 Third Party Software
Any use of third party software is prohibited during the qualifiers and tournament play. If participants violate this rule it will be treated as hacking with the intent to cheat. The participants will be disqualified, no prizes will be awarded, and the individuals involved will receive a ban from competing.
4.7 Host
The assigned host is responsible for creating the Party within the game and providing the Lobby ID and Game PIN to their opponents. The Lobby ID and Game PIN should be shared using the match chat function on your match page. The host will always be the first player on the list of the corresponding group in ESL Play.
In the event that the assigned host does not create the Party within the game or does not show activity until 10 minutes after the start of the round, they will receive the immediate disqualification from the tournament. The new host will be the next player on the starting sheet list.
4.7.1 Lobby Settings
Code: Automatically generated by the game

Lobby Name: Host's Name

Lobby Type: Competitive

Visible: Hidden

Invite Permission: Only Owner

Game PIN: (Null)

Empty slot to be filled up by bots
4.8 Results
Each participant should take end-of-game screenshots of their results in case of any disputes and/or technical difficulties in the lobbies. Failure to provide said screenshots when requested can lead to disciplinary action and/or loss of points. If you have problems or notice any issues, please contact the admins IMMEDIATELY VIA SUPPORT TICKET. You can reach us via  Discord  for quick questions, for everything else please  open a support ticket.
4.9 Time to Matches
4.9.1 Starting the game
As soon as the matchday starts, the first lobby needs to be set up. Once a match has completed the next lobby needs to be immediately set up and all players join within 10 minutes of the end of the previous match. If all players have joined the match lobby the match can start right away. The schedules of the next rounds are subject to the completion of all the games of the previous round.
4.9.2 Failure to appear / No Show
Each player has 10 minutes to show up to a match. (Match date or end of last match +10 minutes). Showing up after 10 minutes results in a default loss. Please keep in mind, if a player did show up in time, but needs to leave the lobby to sort an issue, it does not count as a no show if they do not come back after that match ends + 10 minutes. Abuse of this exception will lead to a default loss of the match.
4.9.3 Rounds after the First Round
Starting with the second round, all match start times are immediately after the previous game has closed. This means the 10 minutes to show up start counting right away i.e. game 1 closed at 15:45, players have until 15:55 to show up in the lobby for the second match.
4.9.4 Game preparations
Please resolve any problems that might occur before a match starts. Connection or Hardware Problems during a match could lead to disqualification by ESL admins. Starting to play the match means that you agree with the pre-match situation (eg. if a player showed up and the game started nevertheless, the late show up is invalid after that point).
5. Participation Information
5.1 Game Account
All players must have an up to date Auto Chess ID linked to their ESL Play account. A wrong, missing or outdated Auto Chess ID will result in disqualification and 0 points for the day of participation.
5.2 Rematch
Players can agree to a rematch if they think it's needed to play a fair and balanced match or to solve technical problems. Lobby rematch needs to get approval by the admin. The new lobby must be hosted by the same player as the previous one, following the same procedure as before.
5.3 Results
All players need to take a screenshot of the scoreboard once they have been eliminated or at the end of the match and upload it to the matching page on ESL. In case of dispute, contact the admins via Discord or a Protest/Support Ticket.
5.4 Player communication
Please use the game chat located in the lower right corner of the ESL Play site to communicate with the players in your Group.
5.5 Protests
Protests have to be filled within 15 minutes after the match finishes, otherwise, they will not be accepted by the admin team.
5.6 Illegal Actions
Any actions that result in an unfair advantage are illegal. This includes bug abuse of any kind.
5.7 Match Media
All match media (screenshots, demos, etc) must be kept for at least 14 days. In general, you must upload the match media from a match to the match page as soon as the match is over. Faking or manipulating match media is of course forbidden and will result in severe penalties. Match media should be named clearly based on what it is. It is not possible to file a protest or write a support ticket to complain about bad match media naming. However, if an admin is hindered in his work because of bad match media names, penalty points can be assigned.
5.8 Score screenshot
All players are obliged to take a screenshot of the scoreboard at the end of the game. In case of a dispute, screenshots will be taken into consideration.
5.9 Missing Screenshots
A missing screenshot can lead to penalty for each player and the match may be deleted. 
(a) Warning 
(b) 1 penalty point for each player
An incomplete screenshot can lead to 1 penalty point or a warning for each player.
6. Prize Money Distribution
SEA Prize Money Distribution
$10,000,00

National Finals - VN

National Finals - ID

 

$2800.00 per region

1st

2nd

3rd

4th

5th

6th

7th

8th

9th

$800.00

$600.00

$400.00

$400.00

$150.00

$100.00

$100.00

$100.00

$100.00

National Finals - TH

 

$2400.00 in total

 

1st

2nd

3rd

4th

5th

6th

7th

8th

$700.00

$500.00

$300.00

$300.00

$150.00

$150.00

$150.00

$150.00

MSP (Malaysia,Singapore,

Philippines) + Rest of SEA




$2000.00 in total





1st

2nd

3rd

4th

5th

6th

7th

8th

$600.00

$400.00

$200.00

$200.00

$150.00

$150.00

$150.00

$150.00

$20,000,00

Regional Finals

1st

2nd

3rd

4th

5th

6th

7th

8th

9th

10th

11th

12th

13th

14th

15th

16th

17th

18th

19th

20th

21st

22nd

23rd

24th

25th

26th

27th

28th

29th

30th

31st

32nd

$6000.00

$4000.00

$1800.00

$1000.00

$400.00

$400.00

$400.00

$400.00

$300.00

$300.00

$300.00

$300.00

$300.00

$300.00

$300.00

$300.00

$200.00

$200.00

$200.00

$200.00

$200.00

$200.00

$200.00

$200.00

$200.00

$200.00

$200.00

$200.00

$200.00

$200.00

$200.00

$200.00

7. Player Streaming
Players are allowed to stream or rebroadcast matches for Open Qualifier. National Finals players are required to get permission from the admin to stream or rebroadcast. Players need to have a minimum of 5-minutes delay of a live match on their stream.
If any player is found to be streaming without the permission and agreement of the admin and does not meet the minimum delay requirement they will be forced to stop the stream for that match day.
The first offense will be a warning.

The second offense will be loss of points for the match day and 2 penalty points to the player.

A third offense will be 4 additional penalty points or may result in disqualification from the tournament. 
8. Player Identification
Players are required to begin any preparations needed to reach Finals. This means, having identification that allows you to travel available to verify all participants in the event of a  live Finals.
9. Communication & Support
9.1 Support
The primary method of communication and support for the SEA Auto Chess Regional Tournament is the ESL Auto Chess Official Discord Channel. All players are advised to join this server to be up to speed on rule changes and to communicate with admins and participants. Items may be communicated exclusively in this discord server. Not being aware of these items due to not being in the server will not be seen as a reasonable excuse.
You may also use the match chat, located on the bottom right-hand side of ESL Play, or submit a support or protest ticket for any assistance during the cup.
9.2 Admins
All participants must adhere to the decisions and rules of the tournament organizers, admins, and referees. All decisions are final, except in cases where the option to appeal is clearly stated.
9.3 Travel Participation Requests
Any play participating in the tournaments hosted by ESL will be given the opportunity to submit a travel participation request in the event that they will be traveling outside of the specified countries of participation for the series. This request must be submitted at least 1 week ahead of the travel date in order for the request to be reviewed. Acceptance of the request will be based on the information provided by the player for why they are traveling, and the amount of time the player will be out for travel. Each request will be accepted or rejected on a case by case basis. The maximum amount of time for a player to participate from another region outside of the SEA countries allowed in the tournament will be 2 weeks. Any more time than that and the request will be rejected and the player will be ineligible to participate.
10. Player Conduct
Players are expected to conduct themselves professionally throughout the entirety of the tournaments hosted by ESL, including, but not limited to, inside and outside of the tournament, qualifiers, interviews, and the Finals. Warnings, penalties or disqualification may be issued for any of the following:
10.1 Language
In all languages, Players may not use obscene gestures, profanity and/or racist comments in-game chat, lobby chat, or live interviews. This includes abbreviations and/or obscure references. League Administrators reserve the right to enforce this at their own discretion. These rules also apply for forums, emails, personal messages, and Discord channels.
10.2 Behavior
Persons are required to behave in a sportsmanlike manner towards other competitors, members of the League Administration team, media, and fans.
10.3 In-Game Presence
Players involved in the tournaments hosted by ESL are required to follow all in-game rules that are part of Auto Chess VNG – participants are responsible for the assurance of the appropriateness of the content that they produce including, but not limited to: Social Media Presence, Videos, Streams, and Interviews. Disputes and Redress – Any general disputes a person may have with the current operation of the League should first be addressed by messaging a League Operator via Discord. Failure to follow proper procedures for disputes will result in denial of the dispute and the possibility of further penalties.
10.4 Illegal substances and PED's
Participants may not be under the influence or in possession of illegal substances or performance-enhancing drugs (PED). In addition to the standard Code of Conduct penalties, any offending Players may be handed over to the authorities in accordance with the local laws and/or disqualified from participation. 
10.5 Alcohol
Participants that are intoxicated during any event may be disqualified at the discretion of the Tournament Organizer.
10.6 Cheating
Any form of cheating will not be tolerated. If the Organizer determines that any players are cheating, the Player(s) will be immediately disqualified and removed from the tournament and may be restricted from participating in future events. Software Exploitation – Any intentional use of any bugs or exploits in the game may result in a forfeit of the Match and disqualification from the tournament. Bugs and exploits will be determined at the discretion of VNG, Drodo Studio, Dragonest and/or the Tournament Organizer.
10.7 DDoSing
Limiting, or attempting to limit, another participant's connection to the game through a Distributed Denial of Service attack or any other means.
10.8 Software or Hardware
Using any software or hardware to gain benefits that are otherwise not available in-game. Examples include, but are not limited to: any 3rd party software (unapproved apps that manipulate gameplay), playing on private servers, scripted attacks.
10.9 Collusion and Match Fixing
Players are not allowed to intentionally alter the results of any Match. If the organizer determines that a Player or organization is colluding or Match fixing, the Player(s) or organization will be immediately disqualified and removed from the tournaments hosted by ESL and may be restricted from participating in future events. Players must compete to the best of their ability at all times.
10.10 Gambling
Anyone associated with tournaments hosted by ESL is forbidden from placing wagers on any Matches or actions in, or around, Auto Chess VNG.
Unless expressly stated otherwise, offenses and infringements of these Player Conduct rules are punishable, whether or not they were committed intentionally. Attempting to commit any offenses or infringements is also punishable.
10.11 Disqualification
ESL reserves the right to disqualify teams and players. Any participants found to be using a known exploit will forfeit their game upon the first occurrence of the exploit. If any participant is found to use another known exploit for a second time, and it is determined to have been done on purpose, they will be removed from the event and barred from any future events.
11. Technical Issues
Participants are responsible for their own technical issues, including hardware, software and/or internet issues. Matches will not be rescheduled because of technical issues and matches will be played nevertheless.
12. Live Broadcast
All contents, photos, videos, replays, and other resources generated by players belong to VNG, Drodo Studio and Dragonest. Players accept this condition by agreeing to compete in the SEA Auto Chess Regional Tournament.
13. Penalty Point Catalogue
In general, a player can receive up to 6 penalty points per game, unless a single violation has a higher punishment. Where a player receives penalty points for multiple violations, the penalty points are added together.
Each penalty point will be deducting 1 ranking point from the match.
Rule violation

Number of penalty points

Use of ineligible player

Inactive barrage

Player: 3

Playing without a registered gameaccount

Player: 3

Unsportsmanlike behaviour

Multiple/Fake accounts

Warning / Player: 3

Missing screenshot

Warning / Player: 1

Deception

Player: 1-4 depends on severity

Fake result

Player: 4

Fake match media

Player: 6

Fake match

Player: 6

Streaming violation

Player: 2-4 depends on severity
Matches will only be deleted if the team/player violating the rules won the match. In Cup and League matches default wins are given instead of a match deletion and penalty points.
Copyright
All content appearing in this document is the property of ESL Gaming GmbH or is being used with the owner's permission. Unauthorized distribution, duplication, alteration or other use of the material contained in this document, including without limitation any trademark image, drawing, text, likeness or photograph, may constitute a violation of the laws of copyright and trademark and may be prosecuted under criminal and/or civil law. No part of the content of this document may be reproduced in any form or by any means or stored in a database or retrieval system, except for personal use, without the written permissions of ESL Gaming GmbH. All content in this document is accurate to the best of our knowledge. ESL Gaming GmbH assumes no liability for any error or omission. We reserve the right to change content and files on our website at any time without prior notice or notification.