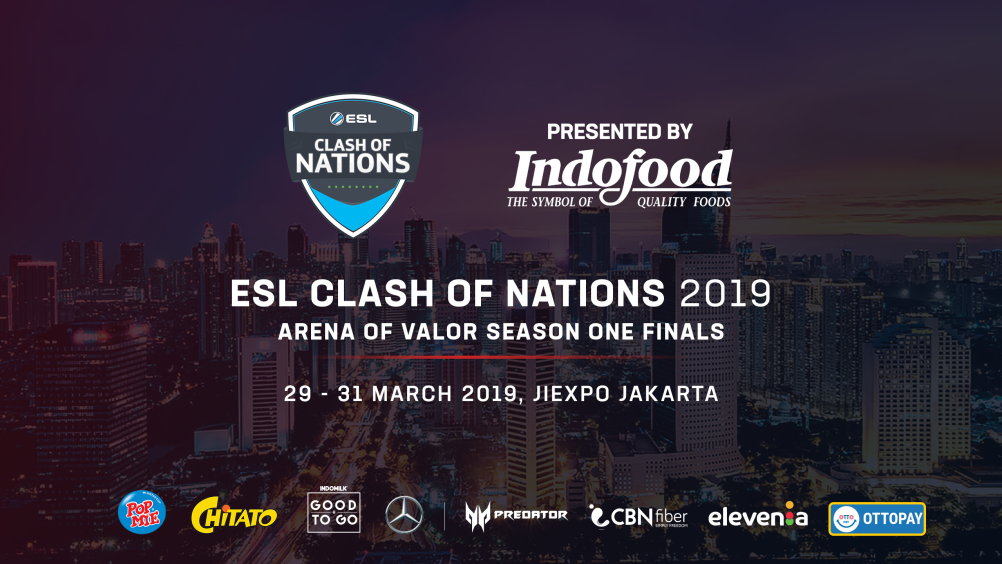 ESL, the world's largest esports company, is pleased to announce the debut of ESL Clash of Nations - Arena of Valor in Indonesia on March 29 - 31, 2019.
Presented by Indofood, the ESL Clash of Nations is the next step to bringing top level esports to Indonesia and the Southeast Asia region.
Six of the best Arena of Valor teams in Southeast Asia will compete in the Jakarta International Expo (JIE) over 3 days for a share of the US$50,000 prize pool and the coveted championship trophy of ESL's first ever Clash of Nations in the SEA region.
The top 2 Arena of Valor teams from the ESL Indonesia Championship will also qualify themselves to the ESL Clash of Nations, where they will be joined by 4 other teams from Thailand, Vietnam, Philippines and Malaysia/Singapore.
A world where everybody can be somebody.
For further communication, please join our ESL AoV Discord Channel.
Malaysia/Singapore Closed Qualifiers
Vietnam Closed Qualifiers
Philippines Closed Qualifiers
Thailand Closed Qualifiers