Smile Yn Hell are the Atlantic Cup Champions!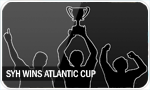 The smoke has cleared, the dust has settled, and the first champion of the ESL Atlantic Cup has emerged. Congratulations to team Smile Yn Hell for an impressive undefeated season. Both teams put up quite a fight in the final match of the season, but only one could be crowned the Champions.
I'd like to thank everyone for participating in the very first NESL Urban Terror event and hope to see everyone sign up for the
Atlantic Cup 2!
Here are the final standings for the first Atlantic Cup:
Top 3 Teams

---

1st place: Smile Yn Hell
2nd place: easy4
3rd place: TBD


4th-8th

---

TBD
Developers Team
duff beer
Disco Voador
Get Legit and Dip

9th-16th

---

Seven Deadly Sins
kiLL FoR LivE!
Apple
Xtreme Team br
I See You!!!
Team Exile
unRestricted
MF-Team


Special Thanks to EOREALITY.net
Thank you EOREALITY.net for providing ESL with top quality Urban Terror servers for Atlantic Cup matches. If your team is looking for a place to practice without wanting to deal with lag, EOReality is definitely the place to order from!
Visit EOReality.net
I'd also like to give a big thank you to
evilelf
for providing ESL with a very high quality GTV server for broadcasting matches.

No comments yet.

Information:
info write comment not allowed