We're talking about playoffs...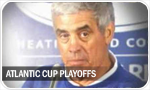 The time has come and the Atlantic Cup playoffs are upon us. Congratulations to the 32 teams to make it to the first ever Atlantic Cup Playoffs! Below are some details and helpful reminders for the upcoming playoff weeks.

The first round of matches take place on Sunday, May 22nd at 17:00 EDT (23:00 CEST). Teams can play their matches sooner, but first round can be played no later than that time/date.

Progressing Teams - in no particular order

---




Smile Yn Hell
Master Gamers
Sad Ih Heaven
XTREME TEAM
kiLL for Live!
Pretorian+
MotherFucker Team
Neurose Urbana
Developers Team
Disco Voador
easy4
Team Urban Colombia
Lzuruha
b00bs
DaBestMayne
Team eXile5
I See You!!!
eVolution
oKay
Team Veneration
unRestricted
Clan PaIsA
Team Energy
Team Exile
duff beer
tornade
Apple
Urban Terror Extreme
Killer Awesome
The Tides of the Tiger
Seven Deadly Sins
Xtreme-Limite


View Playoff Bracket


ESL Wire(Anti-Cheat) - Important Information
No Tolerance

---

As we've been saying since the very first day, ESL Wire Anti-Cheat is mandatory and must be ran during matches.

Merely having the program open does NOT mean Anti-Cheat is enabled.

I have created a "Help and FAQ" post to help players get wire setup for urban terror. If you do not run Anti-Cheat during these playoff matches, you will be penalized. We have been lenient in the past weeks, but if you cannot get it running you must ask us to help you fix your problems before match day.

View ESL-Wire Urban Terror FAQ & Help


Server Reservations - Thanks to EOREALITY.net
Thanks to the people over at EOREALITY.net, we have been able to allow teams to reserve one of their high quality New York gaming servers for ESL matches. All of the ESL Match Servers are equipped with the most recent ESL match config and competition maps for each event.
How do I reserve a server?

---

Follow these easy steps in order to reserve a server for your match!

Message an admin on #ESL.urt on irc.GameSurge.net or irc.QuakeNet.org
If still available, we will respond with server details. IP/Pass
Relax knowing your match will take place on one of EOREALITY.net's high quality servers.

Does your team need a Game Server for scrims or matches outside of ESL Matches? Visit the kind and professional people over at EOREALITY.net for inexpensive servers that feel like you're playing on LAN!

Visit EOREALITY.net


Coverage information will become available soon, and of course if anyone has any questions or comments feel free to visit us in the IRC channel(s) listed above.


Information:
info write comment not allowed