Easter and ESL Urban Terror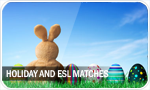 Due to Easter Holiday being today (04/24/2011), the match deadline for this week has been moved to Sunday (05/01/2011). I realize not all teams celebrate this holiday, however in America it is a very big family event.
Teams are still able to play their matches if they wish to and server reservations are still available if needed. I'll be available for support or server reservations if needed in ESL Wire or in #esl.urt on GameSurge or QuakeNet.

Because this is group play, you are not bound on playing the default time or day, a team can schedule for whatever time or day they wish, it just has to be agreed upon by both teams.

Everyone enjoy their Easter Sunday, and contact me if you have any questions.

If you are intending to reschedule due to the holiday, please post a comment in your match comments as soon as possible.


Information:
info write comment not allowed