Atlantic Cup Begins Tonight!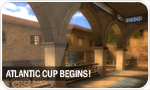 After weeks of preparation, the day we have all been waiting for is finally upon us. The Urban Terror 5on5 TS Atlantic Cup starts tonight! This post is to help make sure everyone knows where they are going, and to update everyone on the coverages we will have tonight!
First off I want to give a big thank you to
EOReality.net
for providing top quality servers for our event. Teams outside of the United States in need of a server for their match can request to use one by messaging one of our admins in #esl.urt on irc.GameSurge.net or irc.QuakeNet.org. There are a limited number of servers so it will be a first come, first serve basis.
How exactly does event work?

---

The 64 teams that have registered for the event have been broken down into groups of 4 teams each. You will play each of the teams in your group once and matches will take place over the next three weeks.

After which, the top two teams from each group will move on to a 32-team single elimination playoff bracket.

Groups can be found: Here
Event's scheduled Matches & Results: Here
Personal Matches: Here
Event Rules: Here


Make sure you have ESL: Wire installed and that you can launch Urban Terror from it prior to your matches starting.
How to use Wire

---

First download ESL: Wire and install.

1. Open Wire and click on Play Tab
2. Click on 'Add Game' and 'Add a Game Manually'
3. Select 'UrbanTerror' from the list and hit Next
4. Click the Browse button
5. Find ioUrbanTerror.exe
6. Click 'Next'
7. If prompted that no registry key can be found, choose "Add without keys"
8. Wait for the game to load. It will then ask you to launch the game to make sure you have the correct path to your game.
9. Click 'OK'
10. Once the game has loaded, close the game and choose 'Done'

You now have successfully setup your Wire Anti Cheat program on your PC for your Urban Terror.

If you get a "cannot load default.cfg" error, please follow Carlton's directions: here

If you "The filename, directory name, or volume label syntax is incorrect." Please follow sephy's directions: here


Support Methods:

---

We will be offering support in the following locations:

IRC: #ESL.urt on irc.GameSurge.net or irc.QuakeNet.org
TeamSpeak 3: ny.eoreality.net port: 9989
ESL Wire: UrbanTerror under "Lobbies" tab
Support Tickets: Submit one here


Atlantic Cup Coverage!
Coverage Details:

---

Tonight we will have GTV as well as Live Stream coverage of some of tonights exciting matches. Here are the details.

GTV Info: connect 64.15.67.99:33000 - Thank you evilelf!
Live Stream: Broadcast TBA

As mentioned at the beginning of the season we are going to be doing ESL Weekly Top10 Frag Highlights, so make sure you take note of the amazing things you do this evening.

How do you get your clip into the top10?

Email: [email protected]
Additional Details: You must have a timestamp of where you did the highlight worthy clip, as well as a description of what you did. For example:

ex: bromondemo.dm_68, 4:38 left, 4-kill clutch to win the round


Good luck to everyone, and we will see you tonight!


Information:
info write comment not allowed