Atlantic Cup Signups Extended!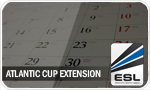 Due to popular demand we have decided to push back our Atlantic Cup first round to Sunday, April 17th. This will end up pushing play back a week but will allow teams to get all of their members together and signed up.
The new signup deadline is
Sunday, April 10th at 23:59 CET
. To make things a bit easier for everyone, I have created "shortcut buttons" to allow users and teams to signup quicker without having to navigate through the site much.
Also, there have been a lot of questions about various subjects so let me explain a few things.
Rules - Match Details

---


Scheduling:
- The default match time is Sunday's at 5pm EDT (23:00 CET), however as matches are created teams ARE allowed to reschedule for anytime in the week before the default match time. To do so, communicate by commenting on your match details page. If both teams do not agree, you then play on Sunday at the default time.

Servers - PLEASE READ THIS IS IMPORTANT:
- Matches are U.S. east coast servers by default.
- If the match is a North American team vs a North American Team then west coast servers are allowed.
- If the match is South American vs South American then South American servers are allowed.
- If the match is European vs European then European servers are allowed.
- Teams may voluntarily agree to play on any server with their opponent but is not required.
- ESL has setup extra servers in the United States for teams to reserve if they or their opponents do not have one. Server reservations are first come, first serve.


Read the original Atlantic Cup post for more details!
Also check our Atlantic Cup promo video!


Information:
info write comment not allowed