Urban Terror Atlantic Cup!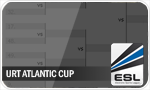 To start things off with a BANG, we at ESL decided to host the very first Urban Terror Atlantic Cup. Entry is completely free and matches will begin Sunday, April 17th at 5:00pm EDT and will continue each Sunday. The goal is to bring as many South American, North American, and European teams together to show off who the real top dog is. Signups close April 1st so get your team in while you can!
Matches are to be played on North American servers, but ESL will have extra servers in New York/Atlanta that teams can reserve if you do not have one. Server reservations are first come, first serve.
The Atlantic Cup will be broken into two portions, group play and bracket play. This will allow teams to have a minimum of 3 matches win or lose.
Click here to Sign Up for the Atlantic Cup now!
Rules - Team Survivor

---


Wire Anticheat is mandatory in all games

Atlantic Cup Matches:
- Week 1: (Group Play) Sunday, April 17th at 5:00pm EDT
- Week 2: (Group Play) Sunday, April 24th at 5:00pm EDT
- Week 3: (Group Play) Sunday, May 1st at 5:00pm EDT
- Week 4: (Bracket Play) Sunday, May 8th at 5:00pm EDT
- Week 5: (Bracket Play) Sunday, May 15th at 5:00pm EDT
- Week 6: (Bracket Play) Sunday, May 22nd at 5:00pm EDT
- Week 7: (Finals) Sunday, May 29th at 5:00pm EDT

Map Pool:
- ut4_turnpike
- ut4_casa
- ut4_abbey
- ut4_sanc
- ut4_orbital_sl

Match Play:
- Best of 3 maps
- Each map only one side (or half) is played
- 20 minute timelimit, unlimited number of rounds

Map Selection Process: (pick, pick, toss, toss)
- High seed picks first map
- Low seed picks second map
- Low seed tosses one of the remaining 3 maps
- High seed then tosses one of the last 2 maps
- Remaining map will be the tie breaker (if needed)
- During "Group Play", the Home Team(listed first in match details) will be treated as High Seed in the Map Selection Process.

Server and Side Selection:
- Each team gets to pick the server for their map choice
- The other team gets to pick which color they want
- In the event the tie breaker map is needed, the team with the highest round differential from the two previous maps gets their pick of server OR side choice NOT BOTH


Additional Information

---


Matchmedia: At the end of each match, it is necessary to upload all final score screenshots.

Demos: Every user has to record a demo; in case of a dispute it may be necessary to upload it.

Server Config: (Link) Download

Servers: Matches are to be played by default on North American servers unless both teams agree otherwise. ESL will have a few extra New York and Atlanta servers for teams who do not have one and would like to reserve one for their match. It will be first come, first serve.


Team Representation is required for ALL players.
All members of a team are required to have similarity in their names, via a team TAG or other blatant similarity.
ESL Wire Anti-cheat
ESL Wire Anti-Cheat
is mandatory for all players to use for the full duration of all matches without any exception. If a player cannot use Wire Anti-Cheat then they are not allowed to take part in a match.
How to use Wire

---


1. Open Wire and click on Play Tab
2. Click on 'Add Game' and 'Add a Game Manually'
3. Select 'UrbanTerror' from the list and hit Next
4. Click the Browse button
5. Find ioUrbanTerror.exe
6. Click 'Next'
7. If prompted that no registry key can be found, choose "Add without keys"
8. Wait for the game to load. It will then ask you to launch the game to make sure you have the correct path to your game.
9. Click 'OK'
10. Once the game has loaded, close the game and choose 'Done'

You now have successfully setup your Wire Anti Cheat program on your PC for your Game choice.

On match day, at the time of your match, a new match will show in your 'Matches' tab at lower right of your page (logged in) or in your Wire program. Use this link to connect to wire and launch your game!


If you have any questions or concerns please leave a comment below and one of our admin staff will help you out. We realize that this website and system is going to be new for a lot of you and we are willing to sit down and walk you through it. Feel free to get in contact with us on IRC as well at #ESL.urt on irc.GameSurge.net. Forums are also available for posting as well.


Information:
info write comment not allowed