Archive National ESL USA Quake Live Extreme Masters Season V
IEM QuakeLive Group Stage Updated!!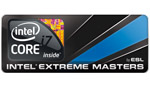 Qualification for the Intel Extreme Masters Season V American Group Stage has been completed. Through five (5) IEM Cups qualifying 14 players, the current North American Champion and the IEM Cup points winner we are now set for an epic Quakelive Group Stage.
Updated:
Groups have been drawn and the Group Stage has been set!
GROUP A:
DKT, Zero4, vampire, Griffin
GROUP B:
Rapha, cha0ticz, Sparks, flysher
GROUP C:
chance, rey, ziel, everkill
GROUP D:
Dahang, gellehsak, Vo0, FienD
Let the games begin! Scroll to bottom of article for some interesting questions to be answered!
Seed Pools were selected to facilitate the live draw happening Tuesday night at 10:00 PM EST via QuakeLive TV. Each Seed Pool was determined using all results from the IEM Regular Season and Open Cups. Some influence from non-ESL events was used when deciding the final Pool a player would be drawn from.
Live Draw Process
Live on Camera, QLTV will draw from 3 Seed Pools. Starting with Seed Pool #1, a player will be randomly drawn into a group, followed by 1 player from Pool #2 and finally 2 players from Pool #3 until all four groups have been filled.
Qualified Players and Seed Pools

Seed Pool #1

Dahang,

Rapha,

Chance,

DKT

Seed Pool #2

Zero4,

cha0ticz,

rey,

Gellehsak

Seed Pool #3

Vampire,

FienD,

Griffin,

Ziel,

Everkill,

vo0,

Flysher,

Sparks
IEM QuakeLive American Group Stage
Top 2 finishers from each group will advance to the American Championship Finals in NYC on October 8, 2010.
Prizing

$50.00 per match win

$125.00 for each qualifying player (2 per group)
Settings and Rules

Premium Membership Required

4 Groups (Groups A,B,C,D) with 4 players per group

Round Robin Play

Best 2 of 3 maps to determine winner of match

Map Pool: DM13, T7, ZTN1, Aerowalk, Hektik, Dismemberment, T4

Map Pick Process: For each match, the players will toss maps until there are only 3 maps remaining. the higher seed will then pick, followed by the lower seed, with the final map left used as the tiebreaker map.

Winner of each group and 2nd place finisher from each group advances to IEM American Championship Finals in NYC (8 players)
Schedule and Structure are subject to change
Schedule
Sunday September 12

Round 1 Matches: 5:00 PM EST, 6:00 PM EST, 7:00 PM EST

Round 2 Matches: 7:00 PM EST, 8:00 PM EST, 9:00 PM EST, 10:00 PM EST
Monday September 13

Round 3 Matches: 7:00 PM EST, 8:00 PM EST, 9:00 PM EST, 10:00 PM EST
And Some Questions For You!
With the Intel Extreme Masters American Championship Season V quickly coming to an end, there are still questions that remain...

Which 8 players will advance from their groups and earn a trip to New York to compete in the American Championship Finals?

Are the seeds correct?

Which group is the 'Group of Death'?

Will Chance and DKT make amends?

Will Zero 4 continue his rise back to the top?

Will Dahang have time to brush off the dust or has he already?

Will vo0 represent America at the World Championships?

Who will be the 'sleeper' that advances?

Will Chance get over the 'hump' or falter on the cusp?

Will QLTV use clear tupperware or something else to draw the seeds from?

Which player received the worst seed?
One lucky winner will receive 1 month ESL TV Premium Key to watch the Intel Extreme Masters American Championship Finals in High Quality!
Answer away!


Information:
info write comment not allowed