Archive National ESL USA
NESL Now Hiring!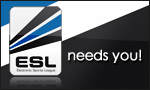 We at National Electronic Sports League are dedicated to eSports. This passion drives us to contribute in some way to the games that we hold dear to our hearts. This is where you come in. We want to push forward eSports and we're looking for dedicated volunteers to share in our drive. Take a look at these open positions and see if you have what it takes to be a part of the NESL team!
To apply, please submit an application to recruitment@staff.nationalesl.com. Make the title of the post the position that you are interested in. Please include your name, age, eSports history, best method of contact, and what you feel you could offer NESL in the position for which you are applying.
General Administrator

Interested in eSports. Although much of our focus is on League of Legends, we are involved in many other games, including, but not limited, to Counter-Strike, StarCraft II and Dota 2!


Ready and willing to help monitor and run tournaments for any of our featured eSports


Must be available during the week (mostly evenings) to manage brackets, answer questions for teams, and support managing staff


Please specify which game most interests you

Go4LoL Administrator

MUST be free on Sundays! The Go4LoL tournament is an open bracket and can have more than 100 teams participating in any given week.


Applicants must be available to help push brackets forward, be available on IRC or in-game chat to answer team questions, and be able to resolve issues


Must be patient and willing to work with complaints


Able to maintain control of tricky situations


Must be comfortable knowing and enforcing all tournament rules

League Administrator

Familiar with League of Legends


Available on weekday evenings


Tasks include team communications such as adding players in-game, sending emails, and being available on IRC and in-game chat


Willing to find and encourage teams to sign up for leagues as well as follow up on teams purchasing Premier

Go4LoL Shoutcaster (Europe West and North America)

Available on Sundays


Able to stream


Must have extensive game knowledge and an ability to share that knowledge with a large audience


Comfortable speaking to a crowd


Possesses voice that is clear and easy to understand


Must have equipment that supports this position, including headphones, a good microphone, and dual monitors

Orcasm
, Thursday, 21/02/13 12:00

No comments yet.

Information:
info write comment not allowed