Archive National ESL USA League of Legends
XXX Interview with LiQuiD112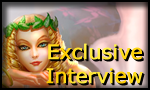 XXX has been around by placing 3rd in the XPL Invitational League, 3rd and 4th place in different Go4LoL cups, and 3rd in the Premier Qualifier. One team member, UnseenArt, has held the top spot in the 1on1 ladder for quite some time. Another, LiQuiD112, has placed 4th out of over 1100 participants in SoloMid's 1v1 tournament. LiQuiD112 was around to answer questions regarding his team.
Your team has quite the variety of talent. When did XXX start playing as a team?
Team XXX started just around the start of Season One. Since that time we have rotated through a number of players and we're one of the few teams that keeps actively recruiting new players to join us. I think that's one of the reasons why we've constantly developed as a team, getting better and better each tournament. We have players on both the east and west coast, but we all get along and have some great synergy in game.

What's the meaning/purpose behind the logo and team name?
Haha. Good question. Our team name actually has some history to it. Prior to playing League of Legends, I was an active member of team XXX in the competitive multiplayer Civilization series, more recently Civilization IV. Civilization is a turn-based, highly strategic multiplayer game and back then our team name was XXX. We were one of the best teams in the world, often winning their versions of monthly Go4LoL events and such. Some of my team members left Civilization when I started playing LoL and the name just stuck. We're trying to get our logo re-done, so if anyone out there is good at logo-making , contact me :)

How did you guys find each other and decide that playing as a team would make you come this far?
Our team has really developed over these last few months and throughout Season One. Each team has very specific roles and naturally some players are better at some roles over others. qpJsuraStrike and I have always been together from the start and throughout Season One contacted and played with other top ELO players. What makes our teamwork so good is first and foremost attitude: it's how we treat each other and how we get along in game play. Sure, people make mistakes, but we don't rage at one another. You learn from it, admit the mistake, and move on. All of us share a good attitude towards each other and our opponents. I would have to say communication is really key as well. We make good calls when we need to, know when to back, and when to engage or chase. Those split second decisions can make or break games and if you have the wrong people making the calls, good players can be pointed in the wrong direction.

You and UnseenArt have done pretty well in 1on1 events. Is this key to the roles that both of you are assigned in tournament matches? (i.e. both of you assigned solo lanes) Or does someone else usually take that role?
1on1 events are very different than regular gameplay. There is a completely different strategy with champion selection and also play style in lane. It takes a different set of skills to do really well on a 1 vs. 1 tournament than it does to play a great solo lane carry in a 5's arranged team. Even though I placed 5th on the SoloMid 1v1 tournament last month, we have other members of our team that do much better in lane and late game as carries. We all play to our strengths as a team and I think each role, executed well, contributes to the victory for the team, not just the player with the highest KDA. As the team captain, I want to keep a close eye on the game and map and guide the team during play; and that's why I lend myself to typically playing support or jungle. As far as many of the players on our team, we are extremely flexible as players and often switch roles from game to game.

Before LowElo broke up, you guys were matched up against each other last week and ended up in a 1-1 game tie before a default win for your team. Were they ever seen as a threat for the team in Premier?
We take every game in the Premier League seriously, and do our proper research and take our time in the bans/picks process. Games can be decided before it even starts with champion selection and ban. LowElo didn't get through hundreds of other teams to participate in the Premier League without being a great team. Complacency and thinking any team in a competitive environment is not a threat can be a downfall for many teams. We wish the game did not end in a default win for our team. We would have loved to play that game out, but sometimes, because of scheduling, it doesn't always end up that way. I hope we have a chance to play them again soon.

Do you see any team as a constant annoyance or threat in Go4LoL for your team?
There are some really great teams out there, so there are plenty of threats. Counter Logic Gaming and Team SoloMid are definitely two that come to mind. Our goal is to be in the top 3 for U.S. teams so we can compete in Sweden. Until yesterday we have had difficulty beating IOV. In the past two match-ups during Go4LoL, we had lost to their amazing push strategy (which they have perfected flawlessly). We've been considering the best way to counter that and yesterday we ended up with the win. We have also never had the opportunity to play CLG, so we're really excited to play them soon.

You beat Icons of Vanity 2-0 yesterday. What do you think of their team and did that influence your bans and picks before those 2 games?
IOV is a team we have utmost respect for. They are a solid team with a very strong early game. We have played them many times and I think that worked to our advantage. We even faced them a few times in Ranked Arranged 5's queue. I think that gave us the information we needed to properly ban and pick. For example, in game two, Zilean was left unbanned. Even though we had first pick, we did not take him and he was left unpicked. What might sound crazy is actually just really good strategy. We needed to make bans that played to our counter push strategy. By making last picks of Twisted Fate and Eve, it countered their strategy nicely.

What is the mindset of XXX when it comes to overall team decision? i.e. Who calls the shots on where to gank, who to ban, who to pick, etc.?
For us, there are multiple phases of the game. The ban/picking process, early, mid and late game strategy. The Bans and Picking process is normally a group decision and I pull on players for their opinions so we can come up with the best counter strategy. The early game, level 1, and ganking phase is really dependent on team composition. Ganks are usually a decision made by our jungler. Late game decisions of when to do Baron, when to back, when to push, or initiate are role-specific decisions. Knowing when to initiate is key and that's the job of the tank to do that when they need to, but all the while I'm ensuring the right calls are being made.

Is there anything in particular that you feel XXX should work on?
I think this could go for any team, but we are always working on our flexibility. With patches and the introduction of new champions, the meta game is constantly changing. Being able to adapt with those changes and develop new strategies is so important. This means players need to master multiple champions and continue to learn new champions and not be comfortable with what they know. For example, Ryze is ridiculously overpowered at the moment, so we all must learn him. We're always working on being more flexible as players.

Are there any sponsors you guys are looking to pick up?
Yes, we are actively seeking a sponsor. We have been in conversation with a handful, but nothing to date has really peaked our interest. We're really looking for a sponsor that is in it for the long haul, all the way to Sweden =D. Unfortunately most of the sponsors we've talked to to-date have not been a good fit. Instead of resorting to anyone, were being smart about who we want to partner with, so it's taking us longer than we had hoped.

In conclusion to these questions, what do you see XXX doing in the far future?
Hopefully our gameplay gets us to World Cyber Games, DreamHack, and more. If we make it to those events, opportunities for the direction of our team will develop. We're optimistic about our chances. As we grow, we may develop a separate sub-team to participate in other tournaments along the way.
Orcasm
, Friday, 15/04/11 17:39


Information:
info write comment not allowed