IEM QuakeLive "Sweet 16" Ready to Roll with czm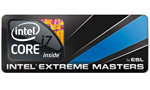 As mentioned in the title of this article, czm has joined this epic QuakeLive event. Many of you have requested and wished for it and we can now say it is true. czm will take cha0ticz's spot in Group B of the "Sweet 16".
Earlier this week, ESL Tournament Director John Clark was contacted by cha0ticz about a possible issue with not having internet in time for the Group Stage event. The ESL admins collectively agreed to keep cha0ticz in the mix until it was confirmed that he would not be able to attend. On Friday afternoon it was confirmed that he would not have his internet hooked up in time to attend and the scramble was on to fill his spot. The process to do so needed to be fair, and a simple invite of everyone's 'favorite genius' would not suffice. It was decided to ask four (4) players that finished well in IEM Cups or were considered to be pros interested in competing. After much deliberation (OK, not really), czm was picked as one of those 4 players. All 4 players were contacted and invited to attend a Friday night 'playoff' to determine who would fill cha0ticz spot in Group B of the Group Stage. All 4 players said they would attend but only Two (2) players showed up to play, czm and dcoy, and these players were set to play a single b03 match to determine the replacement spot.
czm won in easy fashion 2 maps to 0 and thus secured a spot in Sunday and Monday nights IEM America Group Stage.
Although ESL would like to have seen cha0ticz compete, we are glad to welcome czm to this epic battle of new vs. old.
IEM SEASON V AMERICAN GROUP STAGE SCHEDULE
The Full schedule and Standings Table can be seen
HERE!
SUNDAY
(all times EST and PM)
5:00 rapha v. sparks
5:00 chance v. Ziel
6:00 DKT v. vampire
6:00 czm v. Flysher
6:00 rey v. Everkill
7:00 rapha v. czm
8:00 vampire v. Griffin
8:00 Sparks v. Flysher
8:00 chance v. rey
9:00 Ziel v. Everkill
9:00 Dahang v. FienD
10:00 FienD v. Gellehsak
MONDAY
(all times EST and PM)
7:00 Rapha v. Flysher
7:00 vo0 v. Gellehsak
7:00 czm v. Sparks
8:00 Zero4 v. Griffen
8:00 vo0 v. Dahang
9:00 Zero4 v. DKT
9:00 chance v. Everkill
9:00 rey v. Ziel
9:00 Dahang v. Gellehsak
9:00 vo0 v. FienD
10:00 Zero4 v. vampire
10:00 DKT v. Griffin
QLTV will be casting at least 1 match per hour until the event has finished.
Want to win a Free Premium Membership that could be used to watch the American Championship Finals in the highest Quality?
Correctly Predict all winners for each day. The winner with the first submittal who can correctly predict each matches winner will win a FREE 1 month Premium Subscription to ESL. Please post each days predictions in the comments area.
ENJOY!


Information:
info write comment not allowed