Archive National ESL USA League of Legends Season III
ESL Interviews Team Green Forest: Liquidity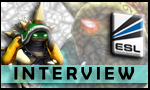 As the dust clears on another week in the Premier League teams are starting push forward and stake their claims for the top spots. This is an interview conducted by

TheSourceAL
of NESL with

LOD
from

Team Green Forestt
talking about his team and the NESL Premier League.

TheSourceAL: So my first question is how did your team get started?


LOD
: Well, I am a recent addition to the team, I joined roughly 2 months ago in March. The other 4 members were good friends even before joining

Team Green Forestt
, so they just worked well together. To elaborate, they tried out for

Team Green Forestt
roughly a year ago and all made it in, since then they have been through two other players.

TheSourceAL: Ok, so when you joined did you guys go straight into competitive play and if so what were the first few tournaments like as a team?


LOD
: When I joined, one of our first goals was to get to #1 on the NA ladders. Then we went straight into Go4LoL's because that was the only thing available to us. Since then we've been winning all of our Premium series matches, scrimming top teams, etc. It's was little difficult working together at first with a new team, but I think we've worked out most of our problems.
We managed to beat 4not.Fire,

Mindy Nam
,

Team EZ eSports
and a few other up and coming teams right now. We also have the IPL5 qualifiers to look forward to but, overall, I think we've done well in our first few tournaments as a team.

TheSourceAL: What would you say has been your greatest achievement as a team?

LOD
: So far, we've won 3 go4lols, we've hit #1 on the ranked ladders, and we're just starting to gain recognition. We hope to place #1 in the Premium League and we were invited to the GESL LAN event in SoCal to play alongside teams like

Mindy Nam
, TSM, CLG, Dignitas, and a few more. I guess our real achievements are soon to come, because in the past we haven't had a full roster to play with, and now we have a strong lineup.

TheSourceAL: Are there any teams that you guys are looking out for or looking forward to play in the Premier League?

LOD
: We believe that there are many teams to look out for in the Premier League, and that none of them should be discredited. We have our eyes on teams like Dynamic, Orbit, Absolute Legends, and a few more in particular though.

TheSourceAL: Cool, so are you guys confident that you can compete on the highest level of play and make it to the EPS next season?

LOD
: Yes, we are very confident in ourselves. Maybe we could've gotten into EPS this season if it weren't for Dan Dinh and his massive fan base!

TheSourceAL: Hopefully you guys can make a name for yourselves and build up your fan base. So how have your Premier matches gone so far?


LOD
: Well, we won all of our matches. Our toughest games were with

Team EZ eSports
but we still pulled out ahead, which gives us the best record of any team in premiere league so far

TheSourceAL: Cool so that's about it, anything you would like to say on behalf of

Team Green Forestt?

LOD
: I want to thank

Team Green Forestt
for picking me up, I want to thank all of our fans that support us, and I want to thank our sponsors,
MSI
,
MBC America
,
Cooler Master
, &
CM Storm
. They helped make this all possible for us! To the fans, look forward to us placing better and better in future tournaments, we are always improving, and of course, thanks for interviewing me :)


Information:
info write comment not allowed