Archive National ESL USA League of Legends
Go4LoL #193 on ESL Gaming Approaches!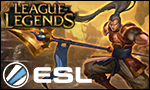 For a chance to win the grand prize of $300 and win the title of the champions of the 193th Go4LoL weekly tournament, simply follow the details to sign your team up for the competition!
Sign up now!

(Check-in: 11:15 -11:55 AM PDT)
Check-in is first come, first serve.
Be there on time to make sure you do not miss out!

Date: Sunday, November 23rd
Start: 12:00PM PDT
Size: 128 teams
Structure: Single Elimination



Prizes for Go4LoL
| | |
| --- | --- |
| 1. | $ 300 USD |
| 2. | $ 15 per Player |
| 3. | $ 10 per Player |
(RP is given to 5 members on a team)
Cup Rules

Pause Rule:
In matches played with the Tournament Draft Mode is it forbidden to use the pause without an obvious reason like a player disconnect.

In the case a player disconnects, is it allowed to use the pause after a short warning in all chat.

To unpause a game is only allowed if both teams agree to in all chat.

Abuse of the pause can lead into a disqualification. Screenshots of proofs of the abuse have to be taken and uploaded into the match.

Tournament Code duty:
All Matches have to be played with the provided
Tournament Code
. If you have questions or problems, please ask an Admin in the Cup Chat.

Screenshot upload:
A screenshot has to be uploaded as proof in the case there are match problems.
Support

Add one of our Admins

LoL Client Channel : Go4LoL
Watch the action here!
[Stream]
Your


Admin Team


Information:
info write comment not allowed