Brazil League of Legends Go4LoL Final Mensal de Fevereiro ( 07 de Março)
IMP eSports vence a Go4LoL Mensal de Fevereiro.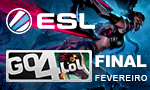 IMP eSports venceu a GO4LOL Final Mensal de Fevereiro, levando R$5750,00. A equipe consagrou-se campeã ao bater a INTZ Red na final, que ficou com R$2750,00.
Final Mensal de Fevereiro - Circuito Desafiante
Neste ultimo sábado aconteceu o segundo torneio da ESL que distribuiria pontuação para equipes no circuito desafiante, a competição que dá acesso ao cblol teve hoje a participação de 8 competidores na final mensal de fevereiro da go4lol.
O circuito desafiante ainda terá outros eventos até classificar as três equipes que terão direito de lutar por uma vaga no cblol, os eventos serão ainda a próxima final mensal da go4lol, o razer challenge e o xtreme legends.
Classificação Final:
1 – IMP eSports – R$ 5.750 e 125 pontos no ranking
2 – INTZ Red – R$ 2.750 e 75 pontos no ranking
3 – Big Gods – R$ 1.500 e 50 pontos no ranking
4 – SK e-Sports Blaze – R$ 1.000 e 35 pontos no ranking
5 – Keyd Warriors – 3200 RP e 25 pontos no ranking
6 – MAD Gaming – 2400 RP e 20 pontos no ranking
7 – 5UniT White – 1600 RP e 15 pontos no ranking
8 – 404 Returns – 800 RP e 10 pontos no ranking
Grande Final da Final Mensal de Fevereiro
ESL TV LoL Brasil
Confira tudo que rolou na Final Mensal,
Clique Aqui
e veja tudo!
Atenciosamente,
&nbsp&nbsp&nbsp&nbsp&nbsp&nbsp&nbsp&nbsp&nbsp&nbsp&nbsp&nbsp&nbsp&nbsp&nbsp

Staff Brasil - League of Legends
Facebook
Twitter
Chuu
, Saturday, 07/03/15 20:42

No comments yet.

Information:
info write comment not allowed