Brazil League of Legends Go4LoL Final Mensal de Janeiro ( 07 de Fevereiro)
INTZ Red vence a Go4LoL Mensal de Janeiro.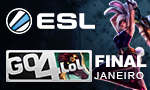 INTZ Red venceu a GO4LOL Final Mensal de Janeiro, levando R$5750,00. A equipe consagrou-se campeã ao bater a MAD Gaming na final, que ficou com R$2750,00.
Final Mensal de Janeiro - Circuito Desafiante
Neste ultimo sábado aconteceu o primeiro torneio que distribuiria pontuação para equipes no circuito desafiante, a competição que dá acesso ao cblol teve hoje a participação de 8 competidores na final mensal de janeiro da go4lol.
Muitos imaginavam e torciam para os favoritos IMP e-Sports e BIG Gods, porém, ambos decepcionaram seus fãs, perdendo justamente para os finalista Mad Gaming e INTZ Red. Com a segunda vitória para cima dos times de Minerva e Alocs a equipe da INTZ Red se mostrou uma equipe com muito potencial e acabou vencendo a grande final do mês de janeiro, saíndo na frente das na luta por uma das vagas para competir pelo acesso ao cblol.
O circuito desafiante ainda terá outros eventos até classificar as três equipes que terão direito de lutar por uma vaga no cblol, os eventos serão ainda as duas próximas finais mensal da go4lol, o razer challenge e o xtreme legends.
Classificação Final:
1 – INTZ Red – R$ 5.750 e 125 pontos no ranking
2 – Make a Difference – R$ 2.750 e 75 pontos no ranking
3 – Big Gods – R$ 1.500 e 50 pontos no ranking
4 – ND e-Sports – R$ 1.000 e 35 pontos no ranking
5 – IMP eSports – 3200 RP e 25 pontos no ranking
6 – Yakuz4 e-SPORTS – 2400 RP e 20 pontos no ranking
7 – Void Team – 1600 RP e 15 pontos no ranking
8 – 404 Returns – 800 RP e 10 pontos no ranking
Grande Final da Final Mensal de Novembro
ESL TV LoL Brasil
Confira tudo que rolou na Final Mensal,
Clique Aqui
e veja tudo!
Atenciosamente,
&nbsp&nbsp&nbsp&nbsp&nbsp&nbsp&nbsp&nbsp&nbsp&nbsp&nbsp&nbsp&nbsp&nbsp&nbsp

Staff Brasil - League of Legends
Facebook
Twitter
Chuu
, Sunday, 08/02/15 10:12

No comments yet.

Information:
info write comment not allowed