Archive National ESL Australia League of Legends
Qualify for the Autumn Regional with Go4LoL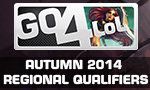 The two upcoming February Go4LoL weeklies will be qualifiers for the Oceanic 2014 Autumn Regional.

The winning team from Go4LoL#34 and #35 on the 2nd and 9th of February will receive an invitation to the Regional tournament held by Riot.
These teams will join seven other top Oceanic teams including the season three champions, Team Immunity.
Sign up below to fight for your place in the Oceanic 2014 Autumn Regional and a cut of the $45,000 prize pool.
Go4LoL, which is run on a sunday, is the biggest weekly cup series in League of Legends. You can win a share in $250 and $150RP. The top 8 teams earn points towards the monthly final.
Top four teams will be invited to battle it out in our monthly cup for $500 and $250RP.
Go4LoL Oceania begins at 12:00PM AEDST
each Sunday, with check in starting at 11:00AM AEDST. You can find all information about Go4LoL cups in the guide below.
If you require assistance, We can be contacted in the League of Legends client chatroom "ESL OCE".
How to sign up

Register and sign up.
Note: gameaccounts Summoner Names must be changed from North America to Oceania.
In case you have questions about Go4LoL or problems with the sign up please open a
support ticket
.
More information on the Autumn Regional
For more information on the 2014 Autumn Regional, please visit the official tournament page
here
.
Good luck on the rift summoners!


Information:
info write comment not allowed