Archive National ESL Australia League of Legends
Go4LoL continues through the holiday period!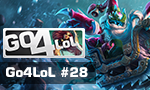 During the Christmas break period, we will be continuing with the Go4LoL series, each Sunday you will be able to win prize money and RP!
Go4LoL is the easiest way to get involved with competitive gaming and eSports, it is free to enter, and open to all skill levels of teams. Weekly matches will be streamed live on the ESL Australia twitch channel
HERE
, with the monthly finals being casted from the global ESL

channel
HERE
Weekly prize pool!
1st: $200 prize money + $15RP per player
2nd: $50 prize money + $10RP per player
3rd: $5RP per player
Monthly prize pool
1st: $400 prize money + $20RP per player + Triumphant Ryze skin
2nd: $100 prize money + $15RP per player
3rd: $10RP per player
4th: $5RP per player



See the cup information page for more details
WEEKLY RP Prizes for Go4LoL Oceania
| | |
| --- | --- |
| 1. | 15($) per Player |
| 2. | 10($) per Player |
| 3. | 5($) per Player |
Cup Rules

Pause Rule:
In matches played with the Tournament Draft Mode is it forbidden to use the pause without an obvious reason like a player disconnect.

In the case a player disconnects, is it allowed to use the pause after a short warning in all chat.

In all other cases have both teams to agree to a pause of the game in all chat.

To unpause a game is only allowed if both teams agree to in all chat.

Abuse of the pause can lead into a disqualification. Screenshots of proofs of the abuse have to be taken and uploaded into the match.

Tournament Code duty:
All Matches have to be played with the provided
Tournament Code
. If you have questions or problems, please ask an Admin in the Cup Chat.

Screenshot upload:
A screenshot has to be uploaded as proof in the case there are match problems.


Information:
info write comment not allowed