CJ Entus Blaze and YoDa are the new World Champions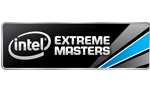 Gamescom, Singapore, Cologne, Katowice, Sao Paulo were our touchstones players all around the globe had to take to qualify for CeBIT, where this season culminated in the Intel Extreme Masters World Championship. Over five days 24 players and 12 teams competed to become the new World Champion in StarCraft II: Heart of the Swarm and League of Legends and $250,000.
CJ Entus Blaze wins over their sister team Frost
12 League of Legends teams from Asia, Europe and America came to Hanover, Germany: Big names such as Team EG and SK Gaming featuring stars such as Froggen or Ocelote, but also non LCS teams e.g. Millenium and Anexis as well as the mighty teams from Korea, which proved once again to be the eSports nation.

Final -

CJ Entus Blaze 3:1 CJ Entus Frost

The grand final was played in a best of five series for the first time. The Korean sister teams from CJ Entus formerly known as Azubu humiliated all their previous opponents before meeting in the grand final. Although winning the first map Blaze couldn't kill Frost's Nexus an additional time even when Shy got his hands on his feared Singed in game three and four.

1st
-

CJ Entus Blaze - $50,000 -
2nd
-

CJ Entus Frost - $25,000

3rd/4th
-

SK Telecom T1 &

Gambit Gaming - $13,500

5th/6th
-

Anexis eSports &

Millenium - $6,900

All StarCraft II VoDs -

All League of Legends VoDs
YoDa sweeps the final to become the new champion
On the 5th of March 24 players came to Hanover to participate in the first ever global StarCraft II: Heart of the Swarm tournament. Five days later the champion was crowned. He goes by the name of YoDa and hails from Korea. After winning his group he went on and beat his team mates Mvp and First to secure the title.

Final -

LG-IM YoDa 4:0 LG-IM First

The event proved to be a very special for team Incredible Miracle. With their players YoDa, First, Mvp and YongHwa they managed to secure the first four places, a very impressive performance. YoDa and First had already met in the groupstage, which ended in a 2:1 win for First. It was the only loss for YoDa in the entire tournament. The SICK NERD BALLER title of the World Championship went to Polish player MaNa who reached the quarterfinal, but was eliminated by Mvp.

1st
-

LG-IM Yoda - $30,000 -
2nd
-

LG-IM First - $15,000

3rd/4th
-

LG-IM Mvp &

LG-IM YongHwa - $7,500
Thank you very much for following our event and the 2012/2013 season over the last five days and the recent months. Intel Extreme Masters will be back.
otacon
, Saturday, 09/03/13 12:56

No comments yet.

Information:
info write comment not allowed