Archive ESL World Intel Extreme Masters Season 7 World Championship
Three more Koreans join the playoffs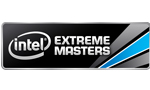 Koreans owned white dudes once again and not just in StarCraft II. Day 2 marked the start of our League of Legends tournament with the first six teams in group A competing for three playoff spots. On our StarCraft II stage six players from Europe and Korea tried to follow yesterday's winner into the playoffs.
With viOLet winning group C and third placed Sting we already have six Koreans joining the World Championship knock-out round. MaNa from Poland managed to beat Sting and is not only second of his group but also the second Polish participant next to Nerchio, who placed third yesterday.
The first day of LoL at CeBIT saw Gambit Gaming overshadowing their group with an amazing performance. It seems they have set out to continue their series of winning every single ESL tournament they attended so far. With five wins out of five games the Russians are the first semi finalists while CJ Entus Blaze from Korea as well as Millenium (which were equal on points with the second Korean team IM) advance to the quarter finals, where they will face the second and third placed teams of group B.

All StarCraft II VoDs -

All League of Legends VoDs
Thursday will be the final day of the group stage, where three more slots are up for the grabs in StarCraft II's group D as well as League of Legends' group B featuring Team EG, SK, CJ Entus Frost and more. Join us tomorrow for three more days at CeBIT as the best teams and players of the season fight for the titles and a grand total of $250,000.
Intel Extreme Masters World Championship
The Intel Extreme Masters World Championship will feature a total cash prize of $250,000 for League of Legends and StarCraft II. Players and teams from all over the world have qualified through the various stops around the globe and will clash at CeBIT, Hanover, March 5th to 9th.
otacon
, Wednesday, 06/03/13 13:17

No comments yet.

Information:
info write comment not allowed