Archive ESL World Intel Extreme Masters Season 6 Global Challenge New York
Strelok qualifies for the Global Challenge New York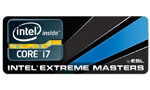 The Ukranian Terran continues his impressive Intel Extreme Masters performance.
Last night the first European StarCraft 2 qualifier for the Global Challenge New York took place. Over 100 players had signed up, among them some of Europe's biggest names. The two finalists would win a spot for the tournament at the Global Challenge New York which will be held at ComicCon from the 13-16th of October. After several hours of play it came down to the final two matches:
The first match had to be delayed until further notice because
SjoW
had technical problems. In the second match
Strelok
managed to win his spot for New York with a clear
2-0
over the former WeRRa player from Korea, who is now residing in Germany. For the Ukranian Terran it is the second Global Challenge he has qualified for in a row, after he also secured a spot for the GC Guangzhou which will take place from the 1-5th October. The full tournament tree can be found
here
.
This Sunday the second European qualifier will take place for the remaining two spots. The open match between SjoW and LucifroN will take place before that, so that the loser may sign up for the second qualifier to try again.

No comments yet.

Information:
info write comment not allowed