Archive ESL World Intel Extreme Masters Season 6 Global Challenge Kiev
In 2012 we will visit Kiev's CyberSport Arena again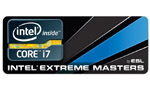 Global Challenge Kiev in January 2012
The Ukrainian game center CyberSport Arena will be the host of our first Global Challenge in 2012. As with the Global Challenge New York it's the second time in a row for Kiev to host an Intel Extreme Masters event. This time not only Europe's best gamers will meet, but also America and Asia will send their best gamers to compete for $93,000 and World Championship slots in for StarCraft 2, League of Legends and Counter-Strike from January 19th to 22nd.
Gallery of Intel Extreme Masters' Kiev appearance in early 2011
Intel Extreme Masters Season 6 Events
CyberSport Arena
is located in

Ukraine's capital and is considered one of the most advanced gaming clubs in Europe. Located in the central district of the city it includes a shop for gamers, a gaming hall equipped with 200 super-modern computers on the basis of Intel Core i5 processors, a sports bar and its highlight a spectator hall for 150 visitors with all necessary television equipment for the organization of live broadcasts.
Intel Extreme Masters Global Challenge New York
Dates: Januar 19th - 22nd 2012
Prize Pool: $93,000
Games: Counter-Strike 1.6, LoL, StarCraft II
Venue: CyberSport Arena
City: Kiev, Ukraine
Stay tuned, as we will announce the first qualifiers very soon.
otacon
, Monday, 15/08/11 12:04


Information:
info write comment not allowed