IEM Season 6 - Thanks and goodbye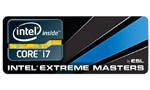 This was season 6 of the Intel Extreme Masters
Not only the World Championship at CeBIT has finished, but also the sixth season of the Intel Extreme Masters. After visiting Cologne, New York, Guangzhou, Kiev and Sao Paulo world's best gamers met in Hanover to determine the new World Champions with one of the biggest crowds eSports has ever seen and a new record in concurrent spectators. You guys were - once again - amazing!
MC underlined why he is called the
Boss Toss
and once again the Koreans set the standards in a StarCraft II tournament. But one rather unknown player from Belgium topped all other attending foreigners including players such as IdrA or dimaga and even some of the Koreans resulting in winning not only the fourth place but the MVP award.

1.

MC 2.

PuMa 3.

MMA
SICKEST NERD BALLER
Feast
One of the best CS 1.6 tournaments in history culminated in an extremely intense and dramatic showdown of two eastern European teams, which dominated the scene for years. ESC Gaming from Poland managed to deny the third championship title in a row for Natus Vincere and won the second title after their first victory at CeBIT 2007. Back then only one player wasn't part of the most stable team, Counter-Strike has ever seen. It's Hanover's Most Valuable Player, pasha.

1.

ESC Gaming 2.

Natus Vincere 3.

Lions
MVP

ESC pasha
After winning the Global Challenge Kiev, the Russians stayed undefeated yet again despite the big names from America and Europe trying their best to win. They are Intel Extreme Masters' first World Champion in League of Legends. Dignitas topped their two big rivals from North America and drew much attention, that is why their Top lane players Voyboy got awarded with the "I carried today BIG" trophy.

1.

Moscow 5 2.

Dignitas 3.

CLG
I CARRIED TODAY BIG

Dignitas Voyboy
We would like to thank Intel, BenQ, Razer and Twitch.TV as well everyone who tuned into the streams, followed us on Twitter or Facebook, visited the website or our Hall here at CeBIT. You guys are the reason why we do and keep doing this. The season is over, but we will be back BIG!
otacon
, Saturday, 10/03/12 12:16


Information:
info write comment not allowed