Fifth Season to open in Shanghai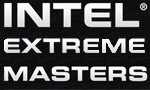 Intel Extreme Masters Season 5
The Global Challenge at ChinaJoy the 8th China Digital Entertainment Expo and Conference in Shanghai will kick start the fifth season of the global league of eSports champions. Teams of Counter-Strike and Defense of the Ancients as well as Warcraft 3 players will clash in Shanghai, China, from July 29th to August 1st, for a total prize money of $57,000!
ChinaJoy hosts first Global Challenge
We love to announce officially that the first Global Challenge will take place at the Shanghai New International Expo Center from July 29th to August 1st. During these four days world class Counter-Strike 1.6 teams, Defense of the Ancients teams and Warcraft 3 players will compete for a total of $57,000 prize money.
DotA professionals will battle it out for the $12,000 prize money that is at stake, $5,000 are up for the grabs at the Warcraft 3 tournament. An appealing $40,000 in cash prizes will be available for the global Counter-Strike elite. Furthermore the winner of the Counter-Strike tournament qualifies for the Intel Extreme Masters World Championship in 2011.
Intel Extreme Masters at ChinaJoy
Dates: July 29th - August 1st
Prize Pool: $57,000
Games: Counter-Strike 1.6, DotA, Warcraft 3
Venue: ChinaJoy
Shanghai New International Expo Center, China
Coverage
otacon
, Monday, 07/06/10 06:59


Information:
info write comment not allowed