Archive ESL World Intel Extreme Masters Season V American Championship Finals
StarCraft II schedule for New York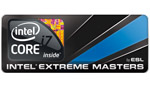 Who will make it to the semi finals?
Only two weeks left until the American Champions of the Intel Extreme Masters Season 5 will be determined live in New York. A total of $60,200 is the prize pot the contestants of the American Championship are competing for. This news contains all information you need to know about the StarCraft II tournament at Comic Con (October 8th - October 10th).
American Championship Finals StarCraft II Participants
Eight players will attend New York's Intel Extreme Masters event to compete for the American Championship title. They survived a groupstage consisting of 16 players and will now fight for $10,000 at Comic Con in New York. The very best will also have the chance to advance to the World Championship taking place in early 2011.
American Championship Finals StarCraft II Schedule
Last but not least, the American showdown of StarCraft II will be brought to you by Sean "day9" Plott and Justin a.k.a. TheGunrun from GLHF.tv, neither of them a stranger to an Intel Extreme Masters StarCraft II shoutcast.
otacon
, Monday, 27/09/10 16:24


Information:
info write comment not allowed