Archive ESL World Intel Extreme Masters Season V European Championship Finals
Eight ways to watch - Pick your match!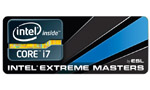 108 matches! Which ones will you watch?
From Thursday to Sunday there will be four days full of eSports, each day featuring 12 hours with Europe's best gamers. All in all 108 matches with hundreds of maps will be played in Kiev, more than you can enjoy and most probably more than you want to enjoy. That's why we are offering all in all seven streams as well as HLTV. Go to our
schedule
and see which games will be broadcasted on which stream.
Overview of all available streams


ESL TV
is the main stream, where Joe Miller, Rotterdam and guests will presents the most important and most exciting matches of the tournament.
Premium user
will enjoy an increased stream of 1700kb/s instead of the usual 1300kb/s Premium stream.



A second ESL TV stream
will focus on the StarCraft 2 matches, that are not on the official event stream. HasuObs, FiLLy and SoniC will commentate
these games
from our studio 2 in Germany.
ESL TV's Special HQ Offer
also includes this stream.



LevelUp TV
supports us one more time to bring you a maximum of Quake Live's duel action.



There will be
HLTV
for each Counter-Strike 1.6 match not broadcast by the official ESL TV stream provided by our friends from
HLTV.org
.


ESL TV Poland
will setup a separate stream for all Polish eSports fans out there.


Cyberarena TV
has three different streams for the Russian speaking part of Europe. Similar to ESL TV and LevelUp TV there will be an official
main stream
and two more focussing on additional
StarCraft 2
respectively
Quake Live
matches.
otacon
, Thursday, 20/01/11 04:45

No comments yet.

Information:
info write comment not allowed