Archive ESL World Intel Extreme Masters Season V European Championship Finals
ESL TV: The Kiev weekend in HQ for €3.99 only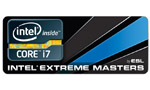 No subscription needed - A special offer for all IEM fans!
Today we present a special offer for all fans of the Intel Extreme Masters: Watch all of the top matches that will take place this weekend in Kiev at the European Championship Finals in the CyberSport Arena.
This is what you get to see on ESL TV:


ESL TV - Event Stream: All top matches of

CS,

SC2 and

QL


ESL TV - StarCraft II: All the other

StarCraft II matches

Check the
tournament schedule
for streaming information
If you do not already have a regular premium subscription you can now get a special 10 day only pass for Kiev. It gives you access to the hiqh quality stream for the event, and on top of that gives you access to the Studio 2 stream for even more StarCraft II matches. For up to six days after the event you will also be able to enjoy the best games and moments from our VoD archive.

European Championship Finals Kiev in HQ for just €3.99
Enjoy the show!
Soodi
, Tuesday, 18/01/11 09:29


Information:
info write comment not allowed