Win an Intel Core i7 Extreme Edition and Razer gear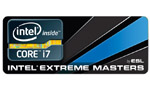 Become the #1 Fan!
We are giving away an Intel Core i7 Extreme Edition processor for the #1 Fan of the Intel Extreme Masters. All you need to do is show your support for your favourite champion and your excitement for the event, and then share it with the other fans.
The #1 fan will be chosen among the best entries and will receive an
Intel Core i7 Extreme Edition CPU
. The full prizing for the contest is as follows:

1st place
receives an Intel Core i7 Extreme Edition CPU

2nd & 3rd place
receives a Razer bundle: mouse + mousepad + headset

five randomly
chosen entries will receive a Razer mousepad
Here's what needs to be done:

1. Create a fan sign
cheering a team or a player on at the Intel Extreme Masters World Championship. It needs to clearly indicate which team or player you are supporting and that you want them to do well specifically at the Intel Extreme Masters event.
example: NEO will ace everyone @ IEM
example: Fnatic - IEM World Champions 2011
example: IdrA Hwaiting @ IEM!
... or anything else which is fun and creative!

2. Take a picture of yourself with that sign
There needs to be something in the photo that will indicate that you follow Intel Extreme Masters coverage on our page. Feel free to take the photo at CeBIT if you're going to be there!!!
example: www.intelextrememasters.com is open in a web browser on a monitor that's visible in the photo.
example: The sign has the "www.intelextrememasters.com" URL on it.
example: There is a Intel Extreme Masters watermark on the photo.

3. Upload that picture
anywhere on the Internet and provide the link in the comments to this news item. You have got time
until Monday, March 7 @ 18:00 CET
. The winners of the contest will be announced on Tuesday, March 8.
If you want to share the fun with other spectators of the Intel Extreme Masters, then go ahead and post your photo on the
Intel Extreme Masters wall
also (please note that you cannot win anything by doing that).
otacon
, Wednesday, 23/02/11 11:59