CeBIT: See ESL TV in HD for the very first time!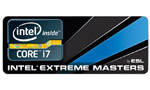 All live streams and VoD access for only €6.50 ($9)
The Intel Extreme Masters World Championship at CeBIT will be a firework display of eSports. The biggest eSports stage Europe has ever seen is expected to be visited by the largest eSports audience that has ever come together outside of Korea.
This is what you will get in HD from CeBIT


Intel Extreme Masters World Championship

Multiple streams covering all the different tournaments

ESL Pro Series Germany - 1st Intel Friday Night Game of Summer Season 2011

IRacing GP Series Grand Final

The best eSports commentators including Joe Miller and Sean 'Day[9]' Plott

And even more!
For five days, some very special guests will join our commentating team across multiple streams to bring you the whole event in
HD quality
! This is the first time that ESL TV will offer such high quality for offline event. To all of our loyal ESL TV Premium subscribers and those who are now tempted to see what the World Championship would be like
in HD
: We celebrate top-notch

CS 1.6
,

Quake Live
,

StarCraft II
and

League of Legends
with you by making an offer you can not refuse!
CeBIT HD Pass - All the best moments in the highest quality!
To give you the chance to enjoy every little details, all the big moments and these top notch tournaments
in HD
(16:9, 720p) on multiple streams, we have a very special offer for you. The CeBIT HD Pass is for all of you who don't want to subscribe to ESL TV Premium, but still want see to this world class event for only €6.50 ($9). ESL Premium users get a discounted offer of €5 ($7).
HD Comparison: See what you will get from CeBIT!

CeBIT HD pass
: €6.50 ($9)

Discount for ESL Premium members
: €5 ($7)
The CeBIT HD pass lasts 20 days. This means you can watch all the matches live, and then afterwards re-watch your favourite moments in the Video on Demand archive!
Soodi
, Monday, 21/02/11 09:01


Information:
info write comment not allowed