TyLoo qualify for CeBIT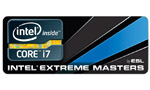 Chinese representative at World Championship
The Chinese Counter-Strike qualification for Intel Extreme Masters' World Championship came to an end. Over 100 teams from China and Taiwan took part in the tournament, but there was only one slot to be given to the winner.

TyLoo came out on top of the competition and is the eleventh Counter-Strike participant for CeBIT. Seven teams from Europe were found last weekend in Kiev, four American teams qualified already last year at New York's ComicCon.
otacon
, Wednesday, 26/01/11 12:48

No comments yet.

Information:
info write comment not allowed