Which Europeans go to CeBIT?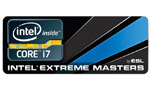 World Championship Slots
It is not all about the European Championship title here in Kiev. Each continent will send their best players to Intel Extreme Masters' season highlight at CeBIT. Europe was awarded with seven slots in CS, four in StarCraft II and six in Quake Live. But three separate slots were already distributed at gamescom Shanghai and Cologne. All of them were claimed by Europeans. So, who actually qualified for
?
In Counter-Strike all six playoff participants received a slot. The seventh slot was supposed to be given to the winner of a decider match between the fourth placed teams. But since fnatic is already qualified due to their Shanghai triumph and advanced to Kiev's playoffs, both fourth placed teams are allowed to represent Europe at CeBIT.
StarCraft II's four slots simply go to all semi finalists. Gamescom champion MorroW failed to qualify for Kiev. Five out of six Quake Live slots were given to all respective playoff participants except for k1llsen, who already qualified at gamescom. Therefore a decider match between Spart1e and noctis was played, which was won by the Swede. Additional decider matches for CS1.6 and StarCraft II were arranged, too, in case of a needed successor.
World Championship Finals
Dates: March 1st-5th 2011
Venue: CeBIT, Hannover, Germany
Slot Distribution World Championship
Counter-Strike 1.6

12 Participants:

fnatic (1st GC Shanghai)
7 slots Europe
Frag eXecutors
MYM
mTw
SK Gaming
Lions
Natus Vincere
TCM Gaming
2 slots Americas
compLexity
Team EG
2 slots Asia

StarCraft II

12 Participants:

MorroW (1st GC Cologne)
4 slots Europe
Tarson
SjoW
White-Ra
DeMusliM
2 slots Americas
Fenix
qxc
5 slots Asia

Quake Live

12 Participants:

k1llsen (1st GC Cologne)
6 slots Europe
strenx
av3k
Spart1e
Cypher
Cooller
fazz
4 slots Americas
rapha
DaHang
Vo0
czm
1 slots Australia
Dandaking
otacon
, Saturday, 22/01/11 09:29

No comments yet.

Information:
info write comment not allowed