World Championship Slot Distribution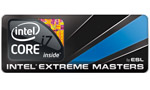 Who's going to CeBIT 2011?
The first Continental Championships Finals of the Intel Extreme Masters 5 are just a few days ahead. The event in New York will determine the American Champions and of course their participants for the World Championships taking place at CeBIT in March 2011. It is about time to announce the final slot distribution for the continents.
World Championship Finals
Dates: March 1st-5th 2011
Venue: CeBIT, Hannover, Germany
Slot Distribution World Championship
Counter-Strike 1.6

12 Participants:

fnatic (1st GC Shanghai)
7 slots Europe
2 slots Americas
2 slots Asia

StarCraft II

12 Participants:

MorroW (1st GC Cologne)
4 slots Europe
2 slots Americas
5 slots Asia

Quake Live

12 Participants:

k1llsen (1st GC Cologne)
6 slots Europe
4 slots Americas
1 slots Australia
The 12 slots per discipline are distributed among America, Asia, Europe and Australia (for Quake Live only) considering the results and appearance of their teams and players during the recent Intel Extreme Masters events and seasons. Three slots are already assigned to the winners of the Global Challenges in Shanghai and Cologne at gamescom. So the Counter-Strike team of fnatic as well as Germanys Quake Live stunner k1llsen and the rising StarCraft II talent MorroW are set for the World Championships. If they still finish their Continental Championship in a qualifying slot the first team or player in the line picks it up.
American Championship Finals
Dates: Oct 8th-10th 2010
Venue: ComicCon New York, USA
World Championship Slots:
Counter-Strike 1.6
2 Slots
StarCraft II
2 Slots
Quake Live
4 Slots
otacon
, Wednesday, 06/10/10 23:21

No comments yet.

Information:
info write comment not allowed